This project is funded by the SSHRC Partnership Development Grant – Collaborative Housing Research Network, from 2019-2020 ($78,767), and includes a variety of researchers in fields as diverse as health promotion, epidemiology, and planning. The idea is to use this grant to learn about the barriers experienced by older LGBT Canadians in accessing housing, which we already know comes in the form of discrimination in assisted living facilities and fear of being open about sexual identity, and to build a national network of researchers and community organizations interested in further pursuing this topic in a longer five-year grant. Housing is a key determinant of health. Mikiko Terashima, Jacqueline Gahagan, and I are all members of the Healthy Populations Institute and Dr. Gahagan and I are Founding Fellows in the MacEachen Institute for Public Policy and Governance. As Principal Investigator, Dr. Gahagan was featured in several media articles on the project.
Project Updates
We've published results from our anonymous survey for older Canadians who are LGBT or housing providers, with over 970 respondents. We coded the open-ended survey responses to determine the key themes related to barriers and concerns among the community. Results from our focus groups in five cities across Canada, and our scoping review are also listed below. The results from our one-year study were also used to develop a 5-year SSHRC grant that aims to address some of these barriers through program, training, or design interventions. We weren't successful this time around, but we will be pursuing other grants on the topic.
Articles:
Blackmore, H., Thomas, R. and Gahagan, J. (2023). Identifying barriers associated with LGBT seniors' housing: opportunities moving forward in the Canadian context. Canadian Planning and Policy 2023: 84-109. https://doi.org/10.24908/cpp-apc.v2023i1.16058.
Gahagan, J. and Thomas, R. (2022). Canada's national housing strategy: Is it really addressing homelessness and affordability? The Conversation, November 16,  2022.
Redden, M., Gahagan, J., Kia, H., Humble. A. M., Stinchcombe, A., Manning, E., Ecker, J., de Vries, B., Gambold, L. L., Oliver, B., & Thomas, R. (2021). Housing as a determinant of health for older LGBT Canadians: Focus group findings from a national housing study. Housing and Society. https://doi.org/10.1080/08882746.2021.1905996 OPEN ACCESS
Gahagan, J. and Thomas, R. (2021) LGBTQ+ Canadian baby boomers in need of safer housing in senior years. The Conversation, January 13, 2021.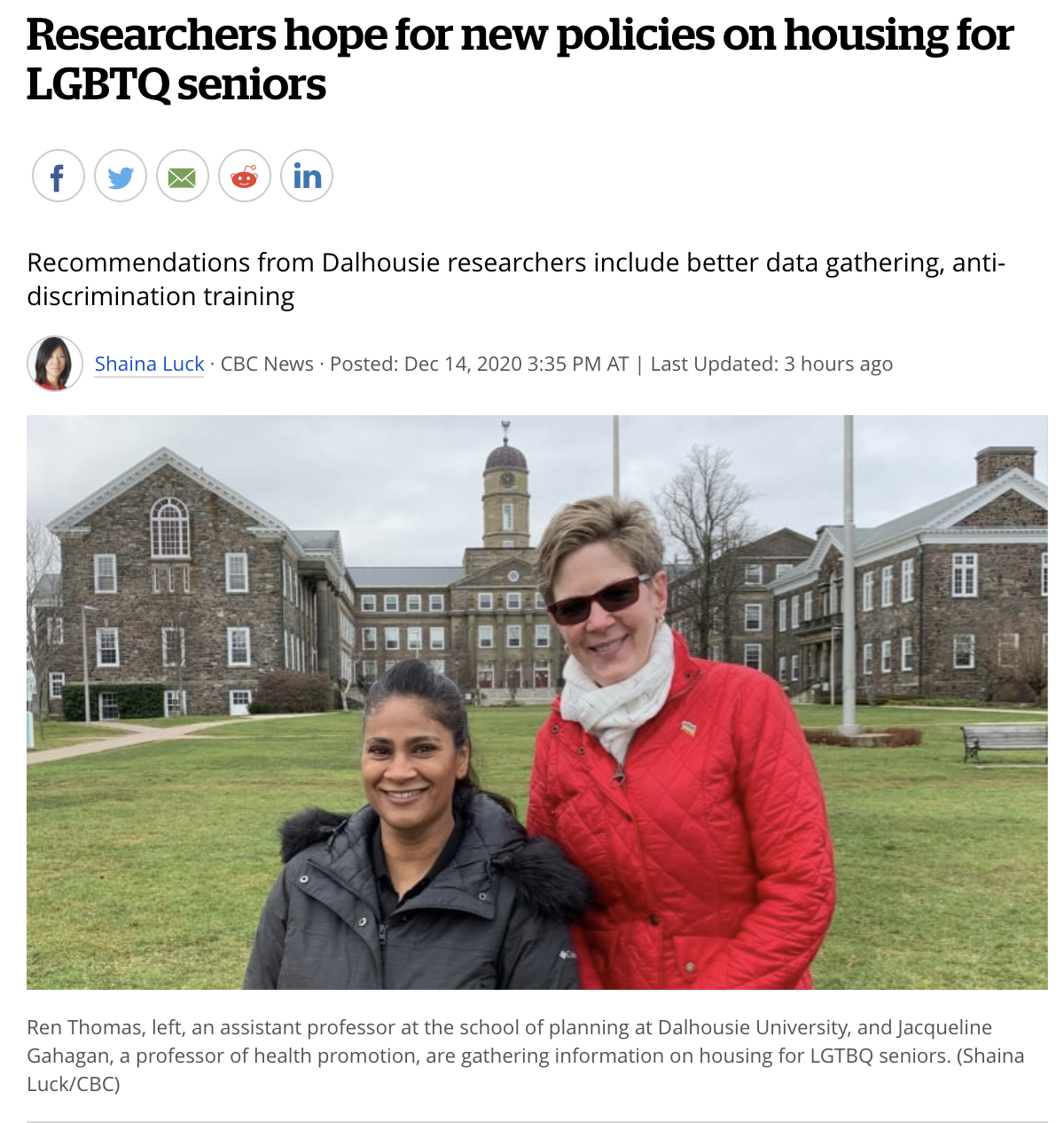 Luck, S. (2020, December 14). "Researchers hope for new housing for LGBTQ seniors." CBC News. The video is here: CBC News December 14, 2020 (story at 12-minute mark)
Media & Presentations:
Interview with Ren on the National Housing Strategy. and interview with Jacquie on housing and health for older LGBTQ people. (December 6, 2022). Joe Pugh: People First Radio.
Thomas, R. 2SLGBTQ Housing for older Canadians: Challenges and models.  Malmö University: Institute of Urban Studies Brown Bag Lecture Series. September 7, 2022.
Thomas, R. and Blackmore, H. 2SLGBTQ Housing for older Canadians: Challenges and models. Canadian Institute of Planners annual conference. July 7-10, 2020. Whistler. [rescheduled to Nov 17-20 due to COVID-19] 
Blackmore, H. Barriers to housing for LGBT seniors in Canada. Webinar, MacEachen Institute for Public Policy and Governance. May 27, 2020. [Watch below!]
Francisco Ibanez-Carrasco developed a learning platform for the project where you can access all the publications and resources: https://bit.ly/LGBTQhousingCanada