Project Updates
This page provides updates on my SSHRC-funded study, Rental Housing in Canadian Cities: Barriers and Solutions to Implementation (2018-2020). The research team for this study includes:
Ren Thomas (Assistant Professor, School of Planning, Dalhousie University), Principal Investigator
Markus Moos (Associate Professor, School of Planning, University of Waterloo), Co-Investigator
Research assistants Ben Lemphers (MPlan), Rachel Lynn (BCD, Ryan Tram (BCD), and Samiya Dottin (BCD), students at the School of Planning, Dalhousie University
We're currently running our second survey for planners, developers, housing organizations who are involved in rental housing protection and implementation. If you live or work in our 15 case study cities, click on the link (or on the image below) to tell us how your city is doing on rental housing! We would love to hear from you by September 30, 2020.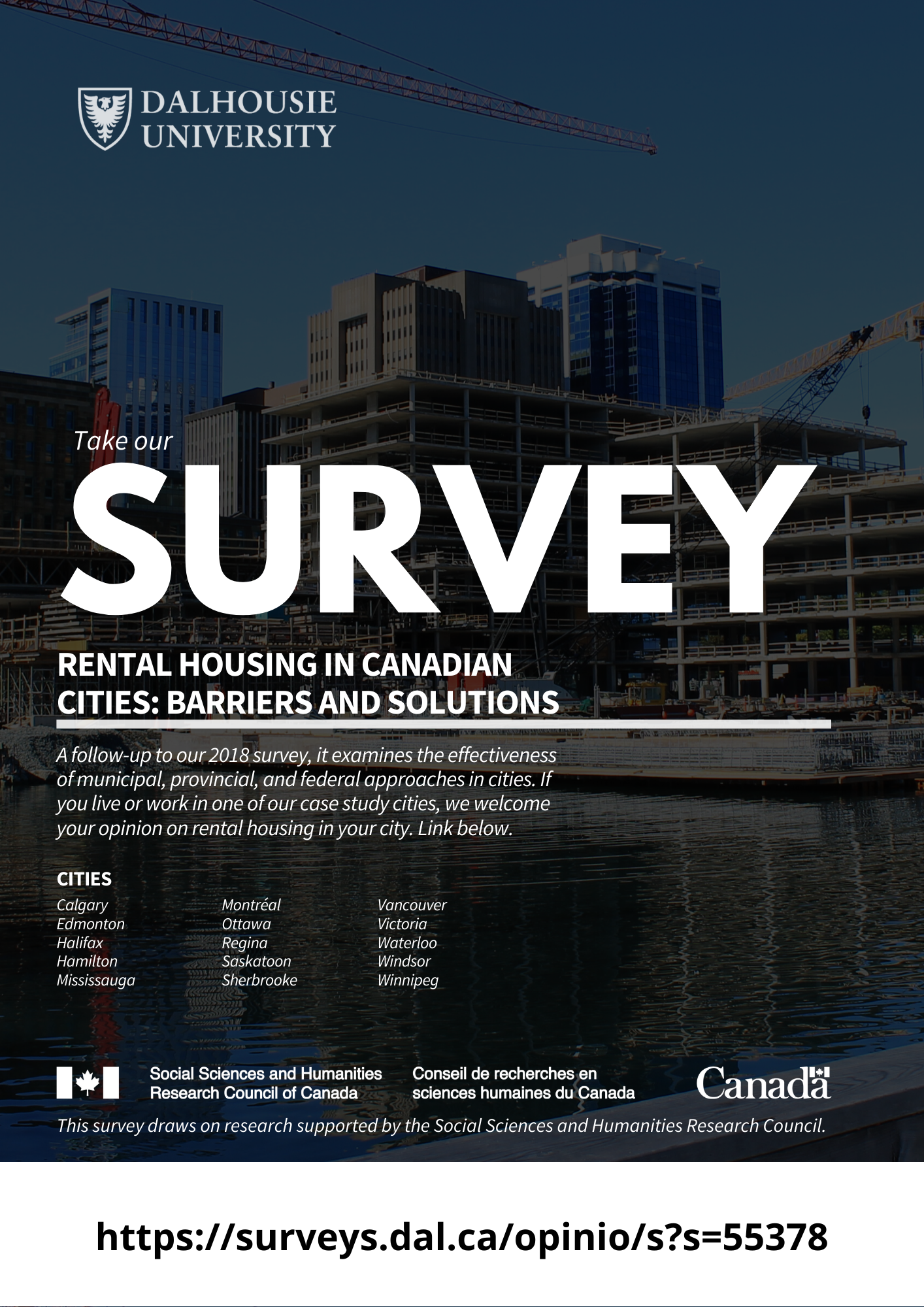 Check our our 5-minute video on Phase I of our project, and presentations I've given at conferences.
"Pushing policy towards innovation: Rental housing in Canadian cities." [cancelled due to COVID-19] Urban Affairs Association annual conference. Washington, DC. April 1-4, 2020.
"Learning from municipal rental housing Policies: Innovation and implementation." Canadian Institute of Planners Annual Conference. Ottawa. July 3-6, 2019.
"Innovation in Canadian rental housing: What can Halifax planners learn from other cities?" Licensed Professional Planners of Nova Scotia Annual Conference. Halifax. May 29-31, 2019.
"Canadian rental housing policy: Implications for immigrants." Metropolis Annual Conference. Halifax. March 21-23, 2019.
"Canadian rental housing policy: Implications for smart growth." Canada Mortgage and Housing Corporation National Housing Conference. Ottawa. November 21-22, 2018.
"Beyond the success story: Patterns in Canadian rental housing policy." Association of American Schools of Planning. Buffalo. October 24-28, 2018.
"Overcoming barriers: Learning from case studies in Canadian rental housing policy and implementation." Association of European Schools of Planning Annual Conference. Gothenburg. July 10-14, 2018.
Articles & Working Papers
No extension for eviction ban puts renters at risk. The Coast, June 26, 2020. Samiya Dottin's article on precarious renters and what Halifax is doing–and not doing.
Rental housing approaches across Canada. A short article published in Plan Canada summarizing the two stages of the project
Will Only the Strong Survive? Municipal Approaches to Rental Housing in Canada. Our first working paper summarizes the policy analysis and survey of 101 municipal planners, developers, and non-profit housing staff.
Connecting the Dots: Catalyzing Rental Housing Policy through Policy Learning. Our second working paper summarizes the meta-analysis and policy learning workshops with local stakeholders in housing policy and implementation.
Halifax Workshops

As part of the final stage of this project, we held policy learning workshops at the MacEachen Institute for Public Policy and Governance at Dalhousie University on June 12th and July 9th. Participants were Halifax planners, developers, and non-profit staff who work on affordable housing. The goals for the workshops were to explore the tools, concepts, and processes that worked in the other case study cities across Canada and determine whether they could be applied here.
What does it take for a city to be successful at rental housing? Our definition is as follows:
Successful implementation and protection of rental housing is defined as the development of new rental units (either market-rate or below-market rate) that meets or exceeds targets set by the municipality/region, and very limited or no loss of existing rental units. Successful cities meet the needs of their renter households by integrating strong policy language, enforcing policies, and collaborating with a range of stakeholders to integrate programs and funding.