I am a generalist in urban research, having taught in areas as varied as transportation planning, housing policy, urban analysis, urban studies, immigration/migration, land use planning, qualitative methods, and urban design. I aim to teach students the skills that they will need to succeed in the planning discipline, regardless of which sub-discipline they choose to work in: graphic and written communication strategies/tools, critical thinking, and cross-disciplinary approaches to problem solving. Wherever possible, I integrate guest lectures and practical projects in collaboration with partner institutions/organizations to give students real-world experience.
Supervising Masters and Bachelors Students
These documents provide a summaries of the Masters and Bachelors students who I have supervised (or am currently supervising) on their thesis or equivalent final project.
Masters Thesis Supervision Summary
Bachelors Thesis Supervision Summary
Courses
Social Justice (PLAN 3051/5051: Dalhousie University, Winter 2017-present)
This is a seminar class that encourages discussion on social justice and equity issues including affordable housing, privatization of cities, gender and planning, and environmental justice. It is a mixed undergraduate/graduate class with about two-thirds undergraduate and one-third graduate students (a total of 10-25 students). Students choose a topic from a list which gives them a few readings to start their own research. The main assessments are a final paper and weekly videos requiring them to respond to a reading or guest lecture. They are encouraged to include planning tools and policies in their responses and final paper, and many use existing plans and tools to stimulate discussion of whether they work to promote equity and justice. This course was introduced in 2017 and students strongly supported the continuation of the course in future years.
Thesis Project (PLAN 4500: Dalhousie University, Winter 2019-present)
This is the final thesis course for about 20 students in our four-year Bachelor of Community Design degree. Students have already completed a proposal course in the fall, choosing a topic from a list developed by faculty members. Many of the projects are either part of a faculty member's funded research or suggestions from municipalities, non-profits or community-based groups in the region. Some examples include a project on accessibility in which residents used PhotoVoice to document inaccessible sidewalks, streets, doorways, and bathrooms (Dr. Terashima's project), a survey of women in HRM on how they participate in public engagement activities (my own research), and a simulation of virtual reality software to visualize urban design improvements to a street (a DalTrac project). 
Conference Module (PLAN 6304/6307: Dalhousie University, 2019-present)
Dalhousie's School of Planning has been running the Shift conference for over 25 years. The course has been taught by Frank Palermo, Kate Thompson, Mikiko Terashima and most recently myself. In the fall term students (typically 5-10) finalize a topic for the conference, then begin to book venues for a free two-day conference, develop a budget, raise funds from local sponsors (roughly $10,000-13,000), book catering, invite keynote speakers and panelists, develop a schedule/program, and organize activities for volunteers. Marketing, social media, and the website are updated. In the winter term they organize the volunteers, finalize speakers, add bios/photos to the website, finalize funds, and prepare for the event itself (usually late Feb/early March). Running the event is a marathon starting the Thursday night and finishing Saturday afternoon, with registration for participants, making sure panelists and keynotes are ready, facilitating audience questions, and making sure everything runs smoothly. Additional events have included a Pecha Kucha event (2019, 2020), a screening of Ingrid Waldron's There's Something in the Water (2020), and live musical performances (2021). The topic for 2019 was Equity, 2020 Equity II and 2021 will be Connect (our first online conference).
Introduction to Planning (PLAN 1001: Dalhousie University Fall 2018-present)
This course is an introduction to the discipline of planning for first-year students (about 80, many of whom are upper year students taking the course as an elective). It introduces students to planning theory and subdisciplines such as urban design and public health, transportation, community development and social planning, housing, and environmental planning, using Planning Canada: A Case Study Approach. Students get a lot of writing practice in the course, with five short written reflections on the readings and a final paper/exam. Taking the course online in 2020 included pre-recorded lectures and an interactive question and answer session, in addition to tutorials.
Urban Design/Environmental Planning Studio (PLAN 4002.01/02: Dalhousie University, Fall 2016-2018)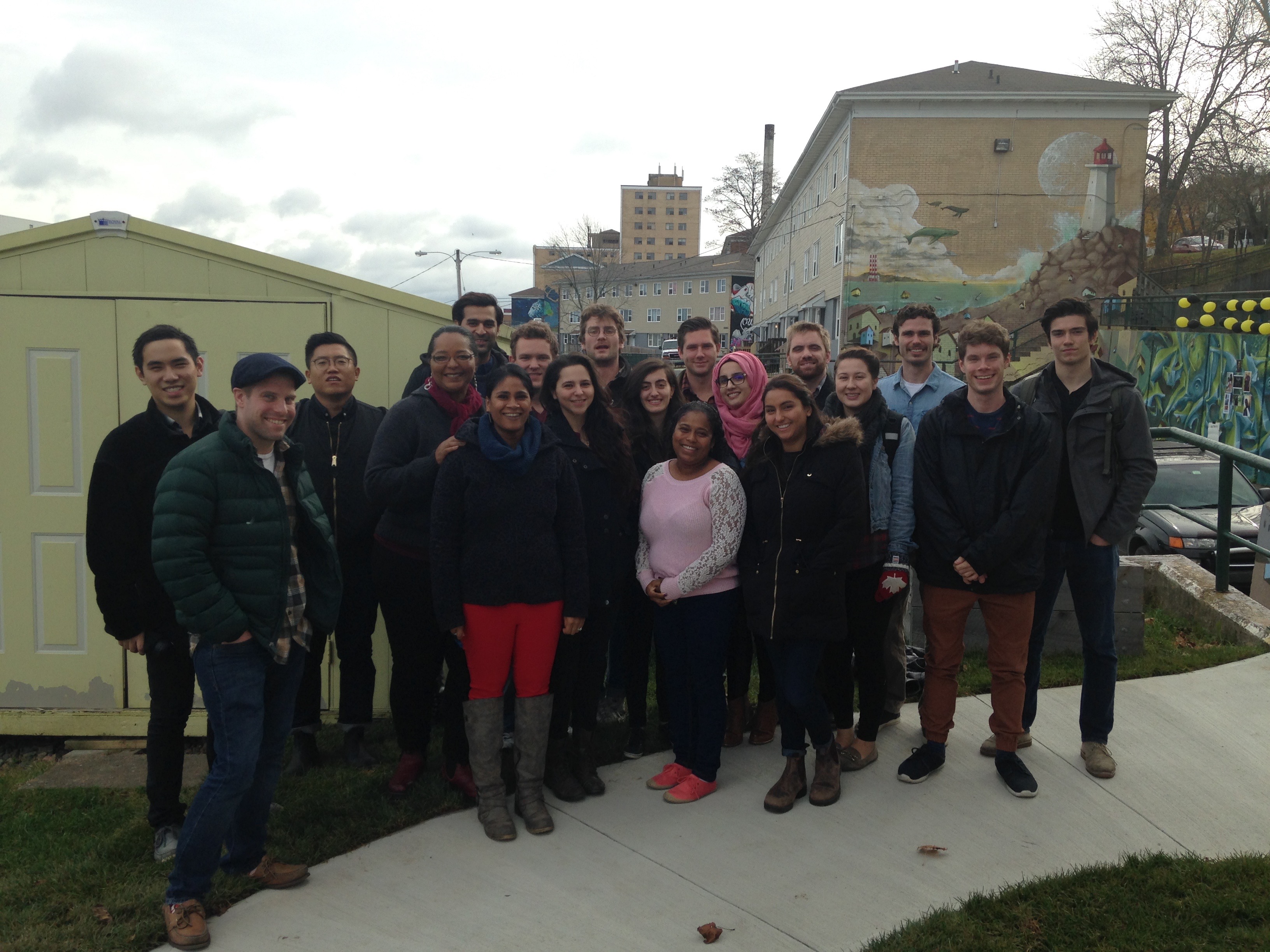 This is an experiential learning course where about 20 students work on a project with a client. In 2016, they worked in Mulgrave Park, one of the first urban renewal projects spurred by amendments to the National Housing Act in the late 1940s and 1950s. Students conducted a historical analysis of the site, came up with an individual design or programming element supporting an overall design approach developed by the class, and prepared a final report for the Mulgrave Park Caring and Learning Centre. Check out this news update about the implementation of the students' projects!
In 2017, students developed a proposal for an affordable rental housing project on Quinpool Road. They worked in teams to develop site and landscape plans, floor plans, a demographic and policy model, a financial and funding model, and a sustainability approach. Our partner on the project was private sector planning firm WSP.
Reading the Landscape (PLAN 3006: Dalhousie University, Winter 2017-2018)
This course, required for our third year Bachelor of Community Design students (about 40), focuses on the built and natural forms as they transition from rural to suburban to urban communities. In fall 2017, it was reworked into a module-based course, with modules on ecosystems, landscapes and landforms (myself), demographics (Mikiko Terashima) and Indigenous planning (Frank Palermo).
Land Use Policy (PPPM 407/507: University of Oregon, Spring 2016)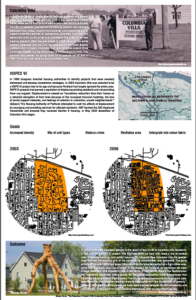 This mixed undergraduate/graduate course introduces students to land use policy with a particular focus on Oregon's unique statewide planning goals. The course moves from large scale (national acts and state policy) down to the local level (comprehensive planning, site development). As many students are not from Oregon, other examples from the US and Canada are also used to illustrate land use planning concepts such as FAR transfers, transit-oriented development, and density bonuses. Students illustrate land use planning in an Oregon municipality in a poster (example on the right), compare a land use tool across three municipalities, and write an in-depth paper on a historic land use plan. Guest speakers are planners working at municipalities, who introduce them to city and small town planning projects in Springfield and Cresswell.
Housing Policy Seminar (PPPM 407/507: University of Oregon, Winter 2016)
This course is based on a project identified by the Sustainable City Year Program's partner municipality, the City of Redmond. With a population of 20,000, Redmond is a rapidly growing small city in Oregon's High Desert, about 2 hours from Eugene. Twenty-two University of Oregon courses worked on projects identified by the city during the 2015-2016 academic year.

This combined undergraduate/graduate course introduces students to the theories underlying housing policy, current practices and tools used by planners, and allows them to apply their knowledge and skills to a real-world problem. Working in groups, students focused on Redmond's Affordable Housing Strategy review. Groups reviewed the Comprehensive Plan, Affordable Housing Strategy and other documents, determined points for implementation of solutions, and interviewed local planners and housing experts. Final reports and a final presentation to the City were required.
Introduction to City Planning (PPPM 205: University of Oregon, Winter and Spring 2016)
This course is an introduction to the discipline of planning for second-year students. It introduces students to planning theory and practice through the use of applied exercises and projects, such as designing a poster that depicts a community's housing types or examining the role of the planner. The course explains planning subdisciplines such as urban design and public health, transportation, community development and social planning, housing, and environmental planning.
Research Methods in Planning II (PPPM 621: University of Oregon, Fall 2015)
This course (co-taught with Rebecca Lewis) is intended to guide Masters students on the research design and proposal for their theses/professional projects. Students complete assignments designed to help them review the literature, decide which methods are appropriate to answer their research questions, and carry out their planned research. Students begin developing their research proposals the summer before the course begins and continue throughout the fall term, with the end goal to submit a well-developed and defensible proposal that has been approved by their graduate supervisor.
Sustainable Transportation Seminar (PPPM 407/507: University of Oregon, Fall 2015)
This combined undergraduate/graduate course is designed to introduce students to the theory and practice of transportation planning. They learn how planning transportation for a region integrates behavioural, land use, and infrastructural solutions (based on Meyer and Miller's excellent Transportation Planning: A Decision-Oriented Approach). The course is divided equally into lectures, where students learn the theory and concepts behind sustainable transportation planning, and group work sessions, where they are able to apply the lessons learned during the lectures. During group sessions, they use the three-pronged approach to developing a solution to a transportation problem in a city or region of their choice.
Masters Thesis Colloquium (10200Y: University of Amsterdam, Winter 2013)

The research colloquium (co-taught with Luca Bertolini and Roel ter Brugge) is designed to guide Masters students in Planning in the design and writing of theses on urban mobility. It is taught in parallel with a research methods course and allows students to debate the application of a range of methods to answer their own research questions and test methodologies in a colloquium environment. Students have two meetings with the larger group (fewer than 15 students) and three with the smaller group (5 students) before submitting their research proposals. Masters students in the one-year planning degree begin developing their theses in February and finish fieldwork and writing by the end of the summer. In 2013, my students chose to study complete streets, public participation in transportation planning, the effects of internet shopping on retail streets, the measurement of polycentricity, and the connection between social capital and public transit. All submitted their theses with successful results within seven months.
Metropolitan Transport Planning (10080Y: University of Amsterdam, Fall 2012 and Fall 2013)
This Masters-level course (co-taught with Luca Bertolini) gives students the technical and professional skills to plan transportation in a metropolitan environment. Students gain knowledge of planning and policy-making methods: problem analysis (forecasting and evaluation), design of innovative solutions and decision-making processes. They learn to distinguish the different roles of planners in transport, traffic and infrastructure issues in relationship to spatial planners and to reflect critically on published plans and reports. They use this knowledge and skills to identify and structure a metropolitan transport planning problem and devise a strategy for its solution. The course is structured with a lecture and a working group/studio each week in Block 2, the six-week block from the end of October to the beginning of December. During the working group, students work on exercises designed to help them articulate their planning problem and solution.
Introduction to Contemporary Planning Issues (PLAN 425: University of British Columbia, Fall 2008 and 2009)
This course has for many years been the only undergraduate course offered at the School of Community and Regional Planning (SCARP). It's always been a major source of graduate students for the Masters programme, so James White and I redeveloped the course as a primer for undergraduate students interested in a future career in planning. We taught PLAN 425 for two years. The course introduced students from various undergraduate degrees (geography, economics, business, psychology, landscape architecture, etc.) to the seven areas of concentration at SCARP at that time: Urban Design and Physical Planning, Urban Development, Regional Planning, Ecological and Natural Resource Planning, Comparative Development Planning, Transportation Planning, Community Development and Social Planning, and Disaster and Risk Management.
Many of our students went on to Masters programs in planning, environmental design, and sociology at UBC, University of Calgary, University of Toronto, McGill University and the University of Cardiff (Wales).
Guest Lectures
"Case studies and qualitative data analysis." (Planning Research Methods (PLAN 5304, Patricia Manuel), Dalhousie School of Planning. January 28, 2021. 
"Introduction to housing policy and frameworks." (Community Health Promotion Strategies, HPRO 3397, Jacqueline Gahagan). Faculty of Health. October 18, 2019.
"Planning and sustainability." Introduction to Environment, Sustainability and Society 2 (SUST 1001, San Patten), Dalhousie College for Sustainability. March 29, 2018.
"Content analysis, surveys, and mixed-methods approaches." Planning Research Methods (PLAN 5304, Mikiko Terashima), Dalhousie School of Planning. January 22, 2018.
"Introduction to transportation and land use planning." Transportation-Land use Planning (PLAN 3053/5053, Ahsan Habib), Dalhousie School of Planning. January 8, 2018.
"Introduction to housing for planners." Introduction to Community Design (PLAN 1001, Eric Rapaport), Dalhousie School of Planning. November 1, 2017 and October 31, 2016.
"Understanding immigrants' housing patterns in Canadian cities: active and passive strategies." Geographic Perspectives on Immigration, Ethnicity and Race in Modern Cities (AP/GEOG 4170, Min-Jung Kwak), York University Geography Department. January 27, 2015.
"Growth and decline in Canadian cities." Urban Social Policy (GEOG 4380, Min-Jung Kwak), York University Geography Department. September 23, 2014.
"Urban research methods" (with Sage Ponder, Liam McGuire, Emily Rosenman, and Sam Walker). Urban Research (GEOG 450, Dr. Elvin Wyly), UBC Department of Geography. January 17, 2012.
"The need for a Canadian perspective in planning" (with Silvia Vilches). School of Community and Regional Planning (SCARP) Lecture Series, March 9, 2011.
"Mixed method approaches in urban planning." Urban Analysis (GEOG 450, Dr. Elvin Wyly), UBC Department of Geography. January 11, 2011.
"Housing, transportation, immigration and the city." Urban Studies (URB 200/GEOG 250, Dr. Elvin Wyly), UBC Department of Geography. December 2, 2010.
"Social Travel Patterns of Youth and Young Adults." Qualitative Methods (PLAN 515, Silvia Vilches), UBC School of Community and Regional Planning. February 13, 2008.
Guest Criticism
Dalhousie School of Architecture (Dartmouth waterfront ARCH 5002: Urban Housing Studio, Niall Savage). October 29, 2016.
UBC School of Community and Regional Planning (Revelstoke Urban Design studio PLAN 548L, James White). November 9, 2011.
UBC School of Architecture and Landscape Architecture (Robson Square Landscape Architecture studio LA 504, Alyssa Schwann). October 3 and 19, 2011.
University of Oregon Department of Architecture (field studio on Granville Island, Stephen Duff). May 13, 2011.