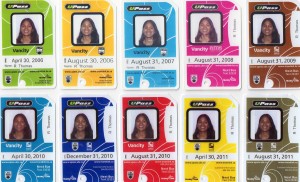 Since I finished my Ph.D. this month, today was officially my last day to use my U-Pass, and a sad day it was! Long past young adulthood, my grad school status awarded me a universal transit pass since 2005; the University of British Columbia and Simon Fraser University started the program as a sustainability measure way back in 2003 with the cooperation of TransLink and intense student lobbying. I've travelled the entire region with my U-Pass: it's taken me to North Vancouver's Lynn Canyon, Surrey City Centre, Richmond Centre, and New Westminster Quay, all for less than $30/month. Among other things, it's allowed me to avoid car ownership for another six years; the U-Pass and my Modo car sharing membership meet all my travel needs. The U-Pass has since spread to encompass other colleges in Metro Vancouver, and has had a major impact on transportation mode shift in the region.
U-Passes are part of a demographic swing that's taking place among young people in Canada and the US. Unbelievable as it may seem in countries that have espoused driving and highways as the only way to traverse our expansive vistas, young people are actually driving less than in previous years (check out the Transportation Research Board's presentation on this among other demographic trends in the US). Car ownership rate has decreased among youth and young adults. Part of this shift is due to increased availability of programs like university U-Pass programs, better transit service, and growing mainstream popularity of sustainable transportation. Today's young adults also spend more years in post-secondary institutions, take longer to enter the labour market, graduate with more debt, get married and have children later, if at all.
In honour of my last day with a U-Pass, I travelled to East Vancouver to the Pacific National Exhibition at Renfrew and Hastings. The #14 UBC/Hastings and #16 Arbutus trolley buses travel there, as well as the #135 express bus to SFU. The bus routes along Hastings Street transect the entire sociodemographic range that is Vancouver, from the suit-wearing jewellers in the stone-clad Birks store at Granville Street to the homeless and addicted masses gathering near the faded grandeur of Main Street's Carnegie. It seemed a fitting way to end six years of unlimited, supercheap transit travel in Metro Vancouver; as of tomorrow, I'm buying full-fare tickets like everyone else.