Planning Canada: A Case Study Approach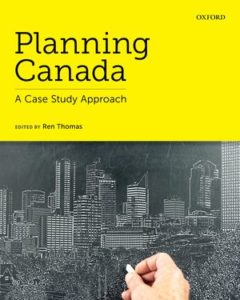 Published by Oxford University Press Canada, the book is designed for instructors who teach or study planning in Canada, and for anyone with an interest in urban studies, human geography, or sustainable development. It introduces undergraduate students to planning through the use of case studies focusing on Canadian cities and regions. It gives students an understanding of how projects/policies/programs are initiated, developed, and implemented. Contributors from academic/research institutions and from planning practice (public, private, and non-profit sectors) have presented cases to trigger discussions among students. Cases are organized by the following areas, with some cases crossing sub-disciplines: community development and social planning, urban form and public health, natural resource management, housing, participatory processes, urban design, urban redevelopment, transportation and infrastructure.
Need more proof that the book is perfect for your course? Jeremy Senko, who reviewed the book for Spacing, wrote, "It goes without saying that the planning case studies chosen from across the country have been carefully curated for the highest impact and educational value, as well as relevance to today's pressing issues. This is why the book is as successful as it is…Planning Canada: A Case Study Approach should be required reading for any planning course taught in Canada." The book won the 2017 Canadian Institute of Planners Award of Merit for Planning Publications.
The jury believes that this textbook is a substantial pedagogical tool and introduction to planning in Canada and that Planning Canada will ignite the passions of future planners for years to come.

–Canadian Institute of Planners website
Even if you don't teach in Canada, many planners learn from international policy ideas, so the case studies can provide a valuable source of planning processes, techniques, and practice for comparison with those in your own cultural and legal context.
…despite the book as a whole being overtly Canadian-focused, the chapters work as standalone readings and provide useful research into a variety of Canadian cases which can individually be of wider interest to international researchers or integrated into planning courses wishing to offer a valuable international angle.

–Rowan Arundel, University of Amsterdam
Part One is interesting because of the many characteristics of Canadian planning which are parallel to those of the discipline in Australia and New Zealand…Several case-studies stand out in terms of possible contribution in an Australian context.

–Johanna Rosier, University of the Sunshine Coast, Queensland, Australia
Maybe this is why you can find a copy of Planning Canada: A Case Study Approach in 45 libraries worldwide!