After weeks of predicting a tight race in Alberta's provincial election, pollsters are scratching their heads. Articles such as "Wildrose on track for majority with a week to go in Alberta" (The Globe and Mail, April 18th) were widespread just a few days ago. Yet somehow, Premier Alison Redford led her Progressive Conservative party to its 12th consecutive majority government with 62 seats, while Danielle Smith's upstart Wildrose Party has become the Official Opposition party with 17 seats. The popular vote was closer: Redford captured 44% of the popular vote and Smith 34.5%. So what happened in the battle of conservatives?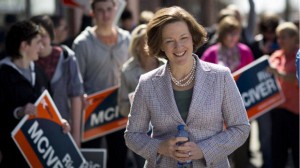 Some sources report that strategic voting played a major role: those who may have voted Liberal or NDP may have voted PC to keep Wildrose from power. Albertans seem to have shown a healthy skepticism for the Wildrose party, particularly issues of gay rights and racism raised by two Wildrose candidates (Allan Hunsperger and Ron Leech, neither of whom was elected). Other centrist and left voters may have disapproved of the party's stance on the fundamental right to refuse a medical service–such as abortion–based on religious objections, and their refutation of climate change. But another interesting factor has emerged: the polls weren't really that accurate. Only a few polls, such as that by Leger Marketing, asked voters whether they were undecided: they found that up to one-fifth of voters were undecided in the final week of the campaign. Despite technological advances, polling has not become more precise, and the margins of error are significant: lest we forget, not a single poll predicted Stephen Harper's majority government in last year's federal election.
Wildrose also had poor support in Alberta's cities. PC support was strong in Edmonton and Calgary: the province's two largest cities hold half of its seats, 44 in total. In Calgary, the Wildrose party took only 3 of 25 ridings while in Edmonton Wildrose failed to win a single one. Lethbridge, Red Deer, and Fort McMurray were also overwhelmingly PC. It seems that urban Albertans preferred Redford's Joe Clark-style conservatism, while many rural residents considered the PCs too centrist. But many journalists are saying that the values, views and opinions of Alberta voters may have been too complex to capture using polls.
Alberta's election pitting Redford and Smith against each other would have had a historic result no matter who won. Only nine women in Canadian history have ever served as provincial/territorial premier: five were elected leader of their party while it was in power, and four were elected premier in a general election. Redford became premier in October when she was elected leader of the party, and this win makes her the first female premier elected in Alberta. BC's Christy Clark is in a similar position: she became premier after Gordon Campbell resigned in 2010 and narrowly won his seat in a by-election. If she were to win the general election next May, she would become the province's first elected female premier (Rita Johnson briefly held the position of premier in 1991 after Bill Vander Zalm resigned and she was elected leader of the Social Credit Party, but she was defeated in the 1991 BC election). With this win, Redford also marks a second milestone: the PCs will become the longest-standing provincial government in Canadian history by the end of this term.