The bell tolls for Jack Layton
Less than four short months ago, I stood at the back of a standing-room-only crowd in a film studio in Burnaby. Two thousand people packed the building; there were still hundreds waiting outside. Suddenly, the crowd began to cheer wildly, waving orange signs and Canadian flags as a slim, well-dressed man strode energetically up to the stage. As the excitement built up, he ran up the steps, waving and smiling, shaking his now trademark cane in defiance of a recent hip replacement. This was his last stop on the campaign trail, and his party was enjoying a surge in popularity. Two days later, the New Democratic Party won an unprecedented 103 seats in the federal election, and slim, well-dressed "Smilin' Jack" Layton became Leader of the Opposition.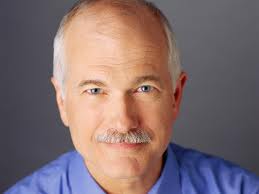 It is a sad reality that Layton, who led the NDP to its most powerful position in its 50-year history, should not live to see the next Parliamentary session. Layton lost his battle with cancer quite quickly and unexpectedly in the early hours of Monday, August 22nd, and a nation mourns his passing. Many of us were looking forward to his sharp debating tactics and keen insights while defending the working class, urging protection of the environment, and supporting urban issues in Stephen Harper's first majority government. The NDP as Loyal Opposition was the sole consolation, many of us believed, for the unsettling Conservative majority that came about on May 2nd after polls had consistently predicted another minority government.
Layton was a true leader: charismatic, passionate, fair, and deeply committed. And yet, he embodied contrasts. Layton grew up in a home steeped in politics; his father, was Conservative MP Robert Layton and his mother, Doris Steeves, was a grand-niece of William Steeves, a Father of Confederation. Although he received a Ph.D. in political science and taught at Ryerson University, Layton moved quickly  into public life as a Toronto city councillor. From 1984 to 1991, Layton was one of a handful of left-wing councillors, known for cycling, coming to council meetings in jeans and opposing mega-projects such as SkyDome. He became head of the Federation of Canadian Municipalities in the mid-1990s. After a couple of unsuccessful campaigns to become an MP, he was elected leader of the NDP in 2003; he won the Toronto-Danforth seat in a 2004 by-election.
Like many politicians, Layton worked hard at refining his image, crafting his responses to the media and developing insightful critiques of policies and agendas. He made lots of public appearance and became something of a media darling in the 2000s; "Smilin' Jack", he had become. He wasn't universally popular; no NDP leader could be. Yet there was something real, something of the ordinary and everyday Canadian, that remained in that calm, well-honed political persona. As John Ibbitson writes, "Always there was, at his centre, this unshakable belief in social justice, married to principled conviction that politicians should treat each other and the voters who gave them their mandate with some measure of decency and respect." That honesty shone through this spring's campaign trail, as Layton poured beers at a Montreal bar and sparred with Michael Ignatieff during the English-language debate. Despite his education, his political lineage, and his polished public image, Layton appealed to Canadians as the guy next door, the politician you'd most like to have over for drinks. Compared to Ignatieff, who struggled to connect with voters not just because of his Ph.D., but because he did not appear to have an unwavering commitment to Canadians or to the public service, Layton appeared dedicated and genuine.
Layton's commitment to public service were evident even when, less than a month ago, he disclosed that he was fighting a new type of cancer. He promised to take a few months over to deal with his health and then return when Parliament resumed in September. As The Globe and Mail reports, he met with NDP staff just two days before his death to hammer out two letters: one to Canadians, and the second to his party outlining the direction for the coming months. As always, he was optimistic, but also realistic:
"Hope and optimism have defined my political career. … As my time in political life draws to a close, I want to share with you my belief in your power to change this country and this world. Your energy, your vision, your passion for justice are exactly what this country needs today." Jack Layton, August 20, 2011
Jack Layton's death will rock the NDP's foundations as much as the death of its first leader, Tommy Douglas, who also died of cancer after a political career that shaped this country through the introduction of its most cherished social welfare programs. The NDP will struggle rudderless during the months to come, but they will be the Official Opposition for at least four years. They will have to quickly elect a new leader and work desperately to maintain a strong presence in Parliament among the Canadians who voted for Jack, and not necessarily the NDP.
I only saw Jack one other time, also at a distance. A few years ago he was in Vancouver for the annual Gay Pride Parade, where he rode in a car festooned with orange NDP balloons, waving and smiling at the thousands who lined Denman Street in support of the LGBT community. He was present just six weeks ago at Toronto's Pride Parade, an event that Mayor Rob Ford boycotted. In the jaded world of politics, Jack Layton had an integrity that spoke to Canadians regardless of their political leanings: he was committed to doing what he believed was right. He now stands among those great Canadians who fought for the greater good–Tommy Douglas, Nellie McClung, Pierre Trudeau, Terry Fox, Lester B. Pearson–whose deaths struck us to our very cores. Canada was built upon the work of these.