2017 is a great year for Planning Canada!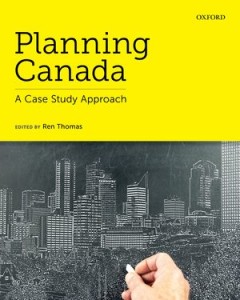 Looking for that last-minute Christmas gift? Hoping 2017 will be a better year than 2016? Looking for some inspiration in these bleak times? Check out Planning Canada: A Case Study Approach. 
Many of you in the urban planning discipline already know about my edited book, published by Oxford University Press this year–especially if you teach in a planning or related program at a university. But Planning Canada is designed to be read by anyone interested in real stories about how our communities have become more diverse, more sustainable, and better designed. Interested in local food? Learn how community gardens in Waterloo were designed. Climate change got you down? Learn how small towns can prepare for the future with case studies from Yarmouth, Nova Scotia and Elkford, British Columbia. Want to know how you can get involved in planning? Find out how communities across the country are using Web 2.0 tools to engage people in planning initiatives. Use the cases to spur discussion in your neighbourhood–can your city use the same ideas, or adapt them to fit the local context? We hope so!
You can buy the book on OUP's website or Amazon. On a budget? Rent the book on Redshelf! Sales have been brisk this fall, so get your copy today!