A roundabout way of decreasing pedestrian safety
Like many cities in North America, Vancouver is in a love affair with roundabouts. And why not: traffic engineers tell us they improve vehicle safety, increase roadway capacity and efficiency, reduce vehicular delay and emissions, provide traffic-calming effects, and mark community gateways. But hang on…isn't this just another road design that prioritizes cars over pedestrians and cyclits?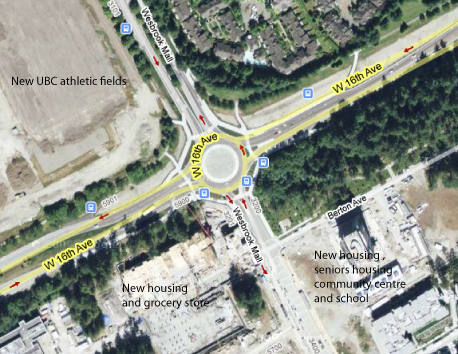 At a roundabout, pedestrians must wait until there is a gap in traffic to cross, placing them at a considerable disadvantage from traditional stop signs and stop lights. There is no designated time for pedestrians to cross, like a walk signal, which means at a busy intersection you can wait several minutes. And there are reasons to fear for pedestrian safety as well.
Studies shows that while the risk of serious vehicle collisions is decreased, this is mainly because they reduce collisions where cars run red lights/stop signs or drivers misjudge the gap in oncoming traffic while turning. The US Access Board, a Federal agency committed to accessible design, writes that "the research findings on pedestrian safety at roundabouts are less clear. There have been relatively few studies, mostly conducted in Europe, concerning pedestrians and roundabouts." Little is known about the effects of roundabouts on the particular demographic groups, such as the elderly, children, and those with accessibility issues. Many drivers do not yield to pedestrians at crosswalks, and it might be difficult to tell if they plan to yield; as the traffic volume increases, the number of "crossable gaps" decreases.
The design of a roundabout also pushes the crosswalks away from the intersection, creating travel paths that are inconvenient for pedestrians, according to the New Urban News. New Urbanists have been promoting roundabouts for many years as a traffic calming measure, despite any evidence that they increase pedestrian safety.
In England, where roundabouts are commonplace, drivers are reasonably vigilant and yield to pedestrians. Nevertheless, the real advantage of roundabouts is that cars are not required to stop. Drivers generally like them for this reason; it reduces their travel time. But what does this do for pedestrians? It again places them at the bottom of the pecking order, and places them at considerable risk. It also lengthens their travel time considerably, as they must cross several directions of traffic, waiting for gaps each time. Compare this to a regular four-way signalled intersection, where the pedestrian gets a clear walk signal and does not have to determine whether it is safe to cross. In other words, the problem that cars supposedly have at four-way intersections (trying to judge the gap in traffic) is transferred to the pedestrian, who is not encased in steel for protection.
Interestingly, public opinion on roundabouts is divided. Many drivers I know detest them, and find them difficult and confusing to use. A cab driver recently told me that he hated the new roundabouts in Vancouver, but one friend of mine defended them. She hails from England and says that the problem is simply public education: North American drivers just don't know how to use roundabouts. When the issue of pedestrian safety is raised, she said, "I see nothing wrong with pedestrians having to wait a few minutes to cross the street. There's way too much encouragement of pedestrians getting the right of way all the time, even when it's unsafe." 
I wonder what experts like Barry Wellar, a retired University of Ottawa professor who studies public safety and testifies at trials where pedestrians and cyclists are injured, thinks about roundabouts. Wellar developed the Pedestrian Safety Index, which some municipalities have been using to evaluate their busiest intersections. Similarly, John Pucher of Rutgers University discusses the many innovations in Europe designed for pedestrian safety, including advanced crossings for pedestrians, scatter crossings, grade-separations and separate pedestrian and cyclist signals. One of Pucher's main arguments is that pedestrians and cyclists increase in number with increased safety precautions; he also argues that penalties for striking a pedestrian or cyclist are much harsher in Europe.
Surely we should be examining all the different safety aspects of roundabouts if they are to be applied everywhere from quiet residential streets to major intersections such as the one pictured in this article. My guess is the UBC roundabout, which was converted from a signalized intersection last year, will prove treacherous to the pedestrians (many of them seniors) crossing the intersection at 16th and Wesbook Mall to access the new grocery store, community centre, school, and housing in the area. But UBC already has plans for another roundabout, and like many municipalities seems content to let traffic engineers' reports lead the way. 
The US Access Board makes several suggestions for improving roundabouts for blind pedestrians, including:
Landscaping, planters, pedestrian channelization, bollard-and-chain separation, railings, and other architectural features can delineate paths that lead to the crosswalk and prevent or discourage crossing at locations other than the crosswalk; a distinctive edge such as a raised curb

Traffic calming measures to ensure vehicles are travelling at low speeds, which influences whether or not they will yield to a pedestrian

Raised crossings to discourage vehicle acceleration

'Smart' signals that can sense and signal a pedestrian's presence

'Splitter' islands with a detectable surface, which can be used as a pedestrian refuge

Public awareness campaigns encouraging drivers to yield to pedestrians

These measures can help counterract some of the pedestrian safety issues associated with roundabouts, but the fundamental question of whether they are advantageous for all transportation modes is not addressed. Pedestrians and cyclists are considerably disadvantaged by roundabouts as compared to traditional street crossings, proving once again that traffic engineers have a tendency to prioritize cars' needs over non-motorized transportation modes. Hopefully we learn more about roundabouts through research and not pedestrian and cyclist fatalities.