Daring Vancouverites to be social
It's hard to believe that Jorge Amigo was once on the receiving end of so many cold shoulders from Vancouver women, he may have rivalled About A Boy's Will Freeman in his level of cool. Sub-zero. Dry ice. As Frosty as the Snowman.
This January, Amigo wrote a now-famous article in Vancouver Magazine entitled, "Do Vancouver women suck?" in response to Katherine Ashenberg's "Do Vancouver men suck?" These and other writers (including myself) have noted a distinctly tepid social climate in this city that leads to lonely singles, particularly men of the failure-to-launch type and women of the cold-shoulder type. Outside of the dating scene, it also seems to lead to the formation of cliques and the social exclusion of those of us who weren't lucky enough to be born and raised in Lotusland (see Jesse Donaldson's "Three Customs of the West Coast Friend" in The Tyee, April 14th, 2012). After a tremendous response to his VanMag article, Amigo decided to do something about it: he started #bemyamigo, a social club that dares Vancouverites to "chat with strangers and help make this city friendlier."
Since February, Amigo has held a regular social event every two weeks at The Union Bar (check out the latest event on eventbrite). Participants buy tickets that entitle them to a drink, browse a menu of appetizers created for the event, and chat with twenty or so strangers at a long table. Having found out about tonight's event fairly last-minute, I decided to check it out.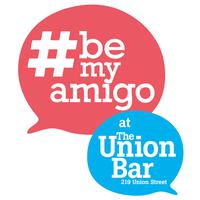 I spent much of my time chatting with a woman who has just moved here from Dublin for work, a geologist working for a mining company, a musician friend of Jorge's, and a multilingual woman who recently spent six months in Rome learning Italian. Most of these folks weren't from Vancouver (which all of us felt was pretty typical) and most had come to the event on their own. Jorge himself was the perfect host, circulating among the participants and chatting with everyone. He was pleased with this evening's turnout, which was a good mix of men and women (apparently the first event drew 22 women and only 3 men!) The conversations began with what people did for a living and how long they'd been in Vancouver and progressed to insights we'd picked up travelling in different countries and the social faux-pas committed daily on Facebook. Hilarious stories were told, and proto-friendships were forged–when we left, several of us made plans to attend a future #bemyamigo event and keep in touch online.
It's too early to tell whether this little social experiment will make a difference in Vancouver's chilly social scene, but several folks at the table seemed to think a critical mass of more sociable types has been reached in this city. While an event like #bemyamigo might terrify an introvert or one accustomed to their own little clique, sitting down with a table full of strangers who were honestly interested in meeting new people was a breath of fresh air in a city where even the weather patterns refuse to budge. Could you do it?
I dare you, Vancouver.