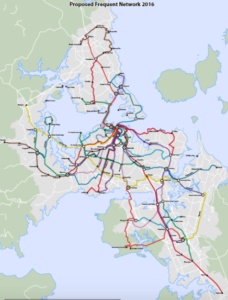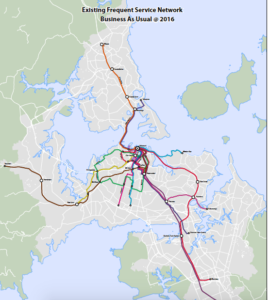 Halifax Regional Municipality launched public consultation for its new Integrated Mobility Plan this year, with the last public meetings in September. The municipality is hoping to provide better sustainable and healthy alternatives to driving. The online survey for the IMP focused on broad open-ended questions about residents' desired options, rather than asking detailed questions about origins, destinations, and mode choice.
Halifax had already made some improvements to its bus transit system, partly at the urging of local grassroots group It's More Than Buses. Dalhousie School of Planning alumnus Sean Gillis has been a key voice for the group. Gillis and his colleagues have been advocating for a simpler frequent transit network that would deliver 10 or 15-minute service along key well-used routes in the city, with the ability to connect to other short routes easily at well-defined nodes. It's an approach advocated by people like Jarret Walker (www.humantransit.org), a transit advocate who has made his career out of attempting to through the bureaucracy of transit planning. Real-world examples of this simplified type of transit network include Auckland, NZ (transit planner Darren Davis just visited Halifax to talk about the simplification of his city's bus network) and Vancouver, BC where TransLink is now in the process of implementing their frequent transit network.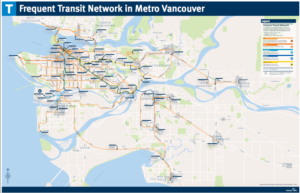 HRM has also taken steps to improve information for transit users. They installed GPS on their vehicles in summer 2016, which means bus riders will soon have access real-time information on bus arrivals. Halifax Transit is planning to make the data available to third-party app developers like Mindsea, a local developer of an Android app for transit users, as well as bigger players such as Google Transit. It's this kind of collaboration and data sharing among public and private organizations that is making many municipal and regional transit systems much easier to use.