Homelessness Action Week 2009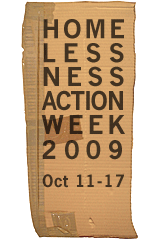 This is an urgent call for my regular readers to participate in the fourth annual Homelessness Action Week in BC. Among the useful facts at stophomelessness.ca are that Canada is the only G8 country without a national housing strategy, one in five households lives in poverty, and the UN has described homelessness and housing in Canada as a national emergency. Suburban areas like Maple Ridge and Coquitlam have the fastest-growing homeless rate in Metro Vancouver, and the leading cause of homelessness is poverty.
I did an internship at SPARC BC which advocates for a full housing continuum, everything from supportive housing to rental to co-op to ownership. We need more options, particularly for young people, single parents and others who can't afford ownership (this includes me and most of my friends who are university graduates in well-paying jobs). This is just ridiculous, and helps keep us stuck in high-priced rental rather than having access to more reasonable rates so that eventually we can own. If anything, the recent mortgage crisis in the US should have shown us that there is no one-size-fits-all approach to housing, and that everyone cannot own housing. We need to get the policy makers going on a national housing strategy including people at CMHC, where I worked before going back to school for my Masters in Planning. CMHC is now providing $2 billion a year in economic assistance to municipalities for housing-related infrastructure projects through Canada's Economic Action Plan (those "shovel-ready" projects I mentioned in an earlier post).  The key word is housing-related…not housing! Let's get real: CMHC calls itself the national housing agency…and we have no national housing strategy?
Go to stophomelessness.ca to find out how to get involved and add your voice to the call for a national housing strategy.