The results of a two-year partnership, My Health My Community, give us a lot of insight into Metro Vancouver's active transportation trends: 43% of residents say their primary transportation mode is walking, cycling, or public transit.
Transportation agencies and municipal transit providers do a lot of their own research, but most of this is not open data and is summarized in publicly available reports. In the absence of Census data or a national transportation survey, transportation researchers often have to collect their own data. The My Health My Community study surveyed over 28,000 residents in Metro Vancouver on their primary mode of transportation, health outcomes, lifestyle behaviours and neighbourhood characteristics.
Key findings from the study include:
Active transportation users have lower body mass index, walk more each day, and are twice as likely to meet the requirement for 30 minutes or more of daily recommended walking
Car users with longer commute times have a lower sense of community belonging
Transit use is highest among lower income, visible minorities and recent immigrants–it is 69% lower among parents with dependent children and 70% lower among households with incomes of over $100,000 annually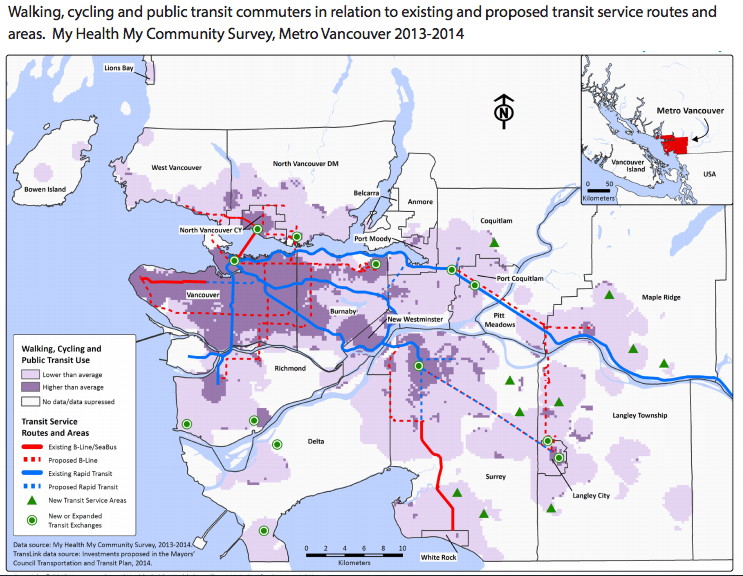 Another interesting result is shown on this map which depicts areas with higher than average active transportation (the darkest purple) in relation to existing and proposed transit infrastructure–and there is a second map showing the same for car users.
My Health My Community is a partnership between Vancouver Coastal Health, the Fraser Health, and the e-Health Strategy Office at the University of British Columbia.  The survey was conducted in 2013-2014 and the results are just beginning to be released. Dr. Jat Sandhu of Vancouver Coastal Health will be presenting the research tomorrow, April 30th at the SFU Segal School of Business, from 7:30-9:00.