Most population growth in Canadian suburbs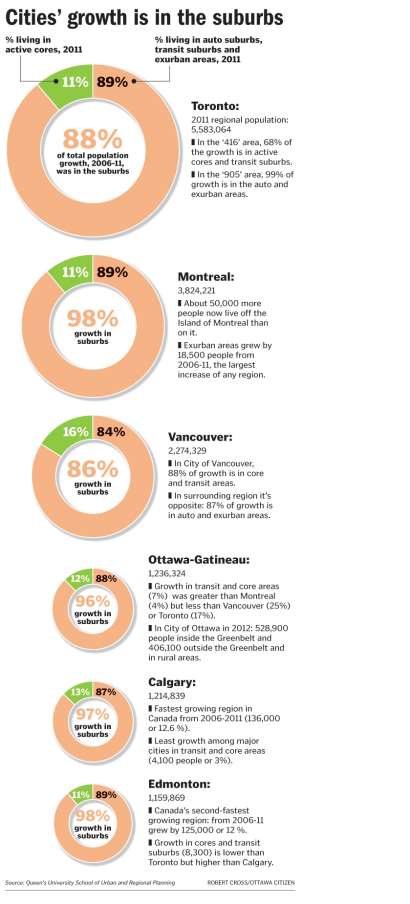 A new report by David Gordon and Isaac Shirokoff at Queen's University School of Urban and Regional Planning has found that the majority of population growth in recent years has been in suburban neighbourhoods–even in our largest cities where condo starts greatly outnumber those for detached houses. This research implies major challenges for environmental sustainability, public health, and infrastructure investments.
In Suburban Nation? Population Growth in Canadian Suburbs, 2006-2011, released as a Council for Canadian Urbanism Working Paper, the authors use Census data from 2006 and 2011 and suburban classifications "active core", "transit suburb", "auto suburb" and "exurban":
Exurbs were defined as very low density rural areas (<150 people/sq km) where more than half the workers commute to the central core and commuters live in low-density estate subdivisions or houses scattered along rural roads
Auto suburbs were defined as the "classic suburban neighbourhoods" where almost everyone commutes by car (density >150 people/sq km)
Transit suburbs were defined as neighbourhoods where a higher proportion of people commute by transit (>150% of the metro average for the journey to work and >50% of the national average for transit use, <150% of the metro average for active transit )
Active cores were neighbourhoods where a higher proportion of people use active transportation to get to work (>150% of the metro average for the journey to work and greater than 50% of the national average for active transit)
The classifications were developed by testing scores for different suburb definitions using Google Earth and Street Views, and a structured sample of Census Agglomerations.
Overall, 90% of population growth in Canada's 33 Census Metropolitan Areas from 2006-2011 was in auto suburbs (80.1%) and exurbs (9.5%), with only 10% of growth in active cores (5.6%) and transit suburbs (4.3%). In 2011, 8% lived in exurbs, 69% lived in auto suburbs, 11% lived in transit suburbs, and 12% lived in active cores. About half of the metro areas had slight declines in their inner city populations as the new apartment construction failed to keep up with declining household sizes in central cities. Overall, 67% of the Canadian population in the 33 CMAs lives in suburban areas.
The authors suggest a "multi-pronged planning approach" to the problem including economic incentives that discourage sprawl and encourage compact development, better intensification in existing urban areas (e.g. secondary suites, laneway housing), redevelopment of formal industrial areas and brownfields on the edges of inner cities, waterfront redevelopment, military base and inner city airport redevelopment, TOD, street corridor redevelopment plans, retrofitting exiting suburbs, greyfield redevelopment of suburban shopping centres, and better design of new suburban development. The study was funded by the Social Sciences and Humanities Research Council of Canada and built on an earlier examination of 1996 and 2006 data.
This trend, and the aging population in many suburban areas of the country with transit services ranging from none to 30-minute frequency, makes me wonder whether we need a massive rethink of the types of transit that can work in suburban environments. At least in exurban and auto suburbs, where the densities are often too low to support traditional bus service at a 30-minute frequency. New York City's "dollar vans", informal services that often fill in gaps in the municipal provision of transit, are an example of this. Many immigrant workers find the services travel to parts of the city where they work, or operate during off-peak hours when municipal services stop running early. In countries such as the Philippines, jeepneys (informal vans or jeeps) and tricyles (small vehicles holding two passengers plus the driver) run even in suburban and exurban communities, are often operated by neighbourhood residents. In both cases, the services run so frequently that planning trips is unnecessary, and operators often speak local languages.
It's clear that most Canadians are still choosing suburban lifestyles, including commuting by car, but there is still the 10%–and that is often enough to catalyze change.