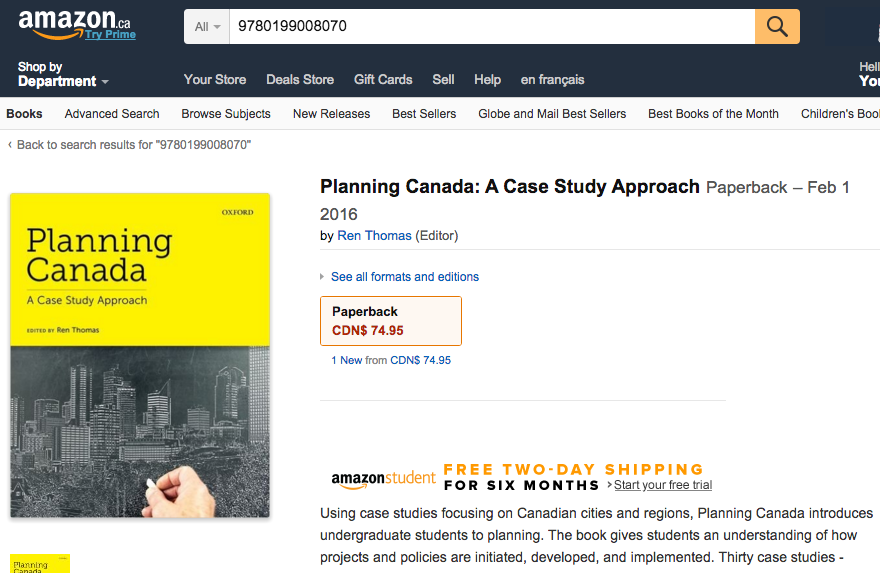 I'm thrilled to announce that my edited book, Planning Canada: A Case Study Approach, is ready for pre-order through Amazon and Oxford University Press. This has been the labour of three years for me and the 41 authors involved in the development of 34 case studies based in the Canadian context. We hope that it will be implemented as a course textbook for undergraduate students in planning, geography, urban studies, and more. It is also our intent that practitioners and anyone with an interest in urban issues, social and community development, or sustainable cities will find the cases compelling.
Many of us in the discipline feel that Canadian planning issues are unique and deserve to be examined and taught in our universities, in addition to the many international examples that are available. For too long, instructors in Canadian urban planning have relied upon texts from the US. But as most of us know, there are critical differences in history, culture, legal systems, and planning regulations between the two countries–and in planning, context matters. Case studies are interesting in their own right, but if they are to serve as potential sources of policy ideas, it is easier if that context barrier is removed. This makes it easier for us to apply ideas from the cases to our own cities and regions.
I hope that in time this book will join the likes of Planning Canadian Communities (Gerald Hodge and David Gordon) and Reader in Canadian Planning: Linking Theory and Practice (Jill Grant), which have already been used extensively in the discipline.