Planning transportation and land use at a regional level is something that very few urban areas have done well. It's recognized in The Netherlands that this type of collaboration among municipalities, land use and transportation authorities, regional and provincial governments is difficult, but needs to be done to achieve sustainable, compact urban growth. On November 27, the Province of North Holland launched a new program called Maak Plaats! (or, "Make Way!") which will attempt to develop a provincial strategy for public transit and the areas within 1200 meters of railway stations. Click here to download a copy of the report (the only English text appears on p230-231, "English Summary").
No doubt inspired by StedenbaanPlus, the integrated regional strategy and co-operative agreement between TOD actors in the Rotterdam-Den Haag region, Maak Plaats! has integrated the plethora of transportation and spatial analysis provided by Deltametropolis. Deltametropolis has done detailed analysis of each node in the North and South Wings of the Randstad which make it easier for the various levels of government to visualize which areas would be the best for future TOD. Below is some of their work for the South Wing.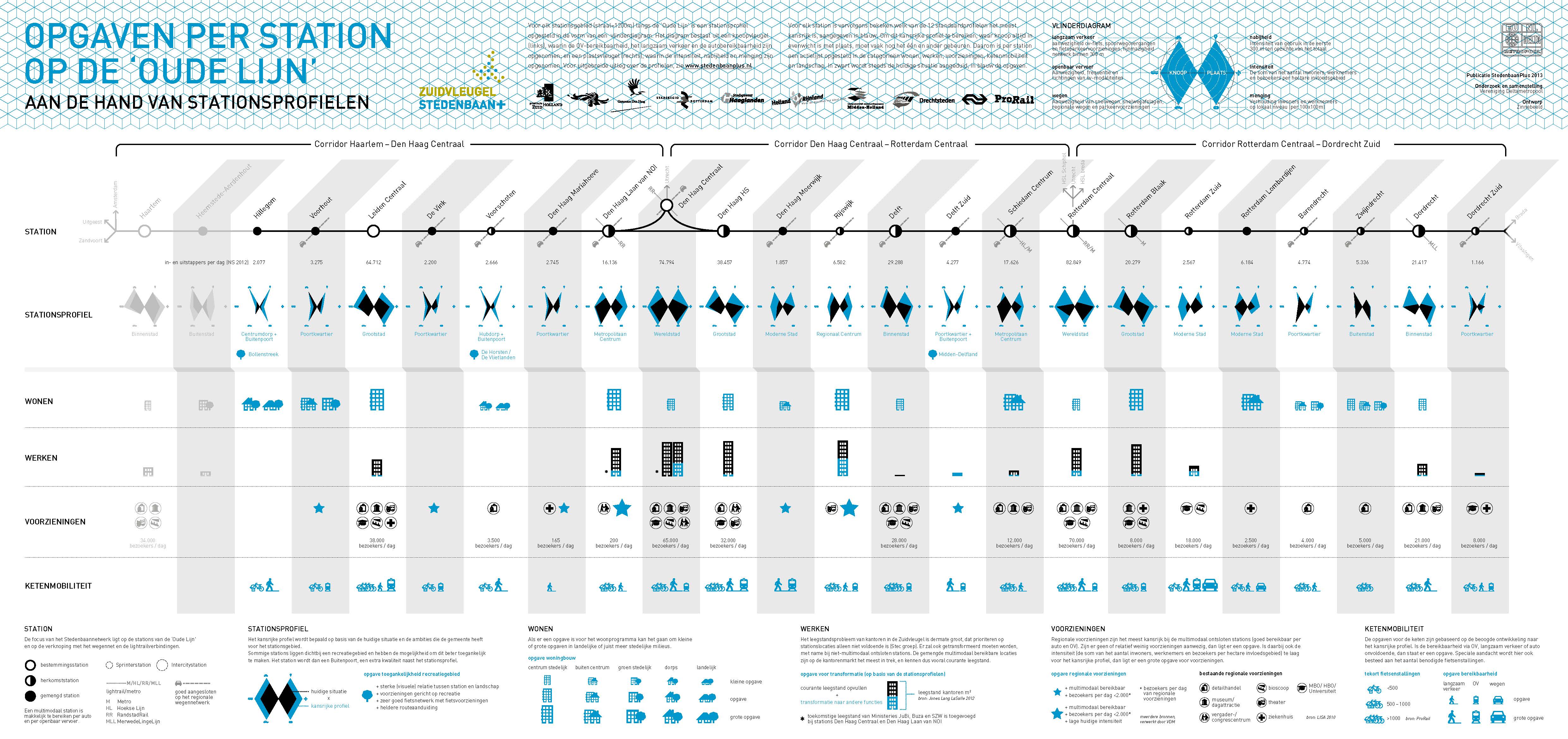 For detailed analysis of each node in North Holland, see p235-363 in the Maak Plaats! report.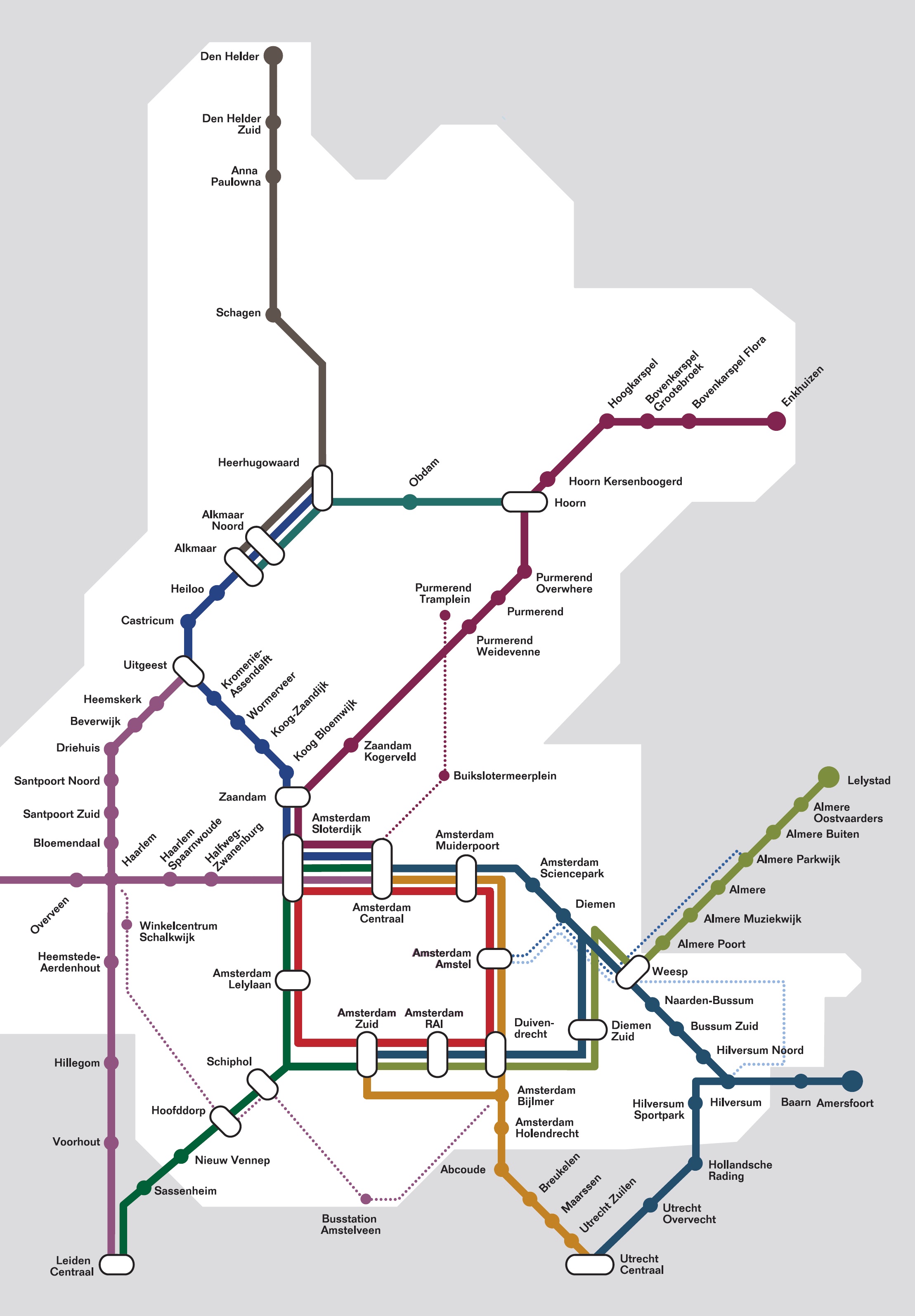 In North Holland, eight corridors have been designated:
Heerhugowaard-Amsterdam (pilot)
Enkhuizen – Amsterdam
Daman – Alkmaar
Amsterdam – Leiden
Amsterdam – Amersfoort / Utrecht
Amsterdam – Utrecht
Amsterdam – Uitgeest / Zandvoort / Leiden
Amsterdam – Lelystad
The goals are to locate at least 50% of new housing around public transit nodes, prioritize plans that occur within the built-up area, reduce surplus office space in areas that are not transit-accessible, locate regional services in transit-accessible locations, and improve trip-chaining facilities. These are not surprising considering the previous policies such as A-B-C location policy (introduced in 1989), which aimed to concentrate employment growth at station locations but had disappointing results.
Starting in 2014, the province will monitor urban development around public transit nodes, prioritize location of new housing within station areas, and facilitate regional consultations and alliances between public and private actors. Specific grants or investment programs may be used to develop key Provincial Nodes. Partners include municipal and city-regional governments, regional bus provider Connexxion, national rail agency NS, rail infrastructure provider ProRail, the OV office, the Ministry of Infrastructure and the Environment, the Universities of Amsterdam and Nijmegen, and Deltametropolis.
As StedenbaanPlus was the first regional collaboration and agreement between transportation and land use actors in The Netherlands, Maak Plaats! can be seen as building upon this success. Deltametropolis has also done a lot to familiarize planners with TOD concepts, mainly through their SprintCity gaming sessions.
So far, the willingness to collaborate on regional TOD strategies has been developed through informal cooperation networks, but not a lot has actually been implemented. Rotterdam-Den Haag is making some progress with the RandstadRail corridor and projects, which include integrated LRT and BRT linking Rotterdam, Den Haag and Zoetermeer.