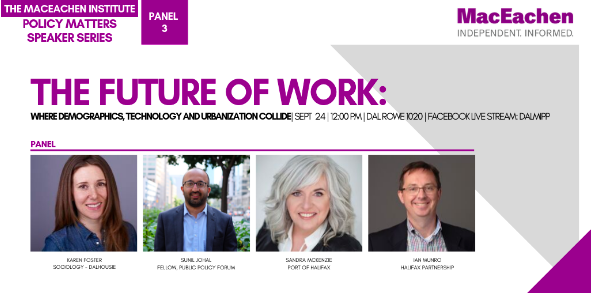 I'm live blogging today from the MacEachen Institute Speaker Series. Today's panel focuses on the future of work.
Our moderator today is Jim Barker, professor in the School of Management. Sunil Johan, an expert in employment and wages, who is the Director of Economic Development for the City of Toronto, discussed the stagnation of wages in Canadian households, the decline of unionized jobs, and the growth in technology. Canada also spends very little on training programs, which means that as technological solutions replace jobs, people will find themselves without jobs. Some fields such as education, health, and nursing are unlikely to be impacted much by growth and change in technology. More transparency around what people make in the labour market could help address wage stagnation, as could anchoring minimum wage to 60% of the medium wage. Other government strategies like guaranteed minimum income and raising taxes on wealth could also help.
Karen Foster holds a Canada Research Chair in sustainable rural futures for Atlantic Canada, and focuses on rural economies. She also raised the issue of technology, and how resource-based industries may not be seriously affected by technological innovation. At this point hiring temporary workers is far cheaper than investing in technology for agriculture. There is also going to be the barrier of tradition and practice in Atlantic Canada, and how people will likely push back against automation. She said that we can't really imagine our lives without work–we can barely imagine our lives with less work. There will be a change between the relationship between people who produce goods and services (employees) and those who own the means of production (employers and investors). However, she thinks we may be on the cutting edge of rural repopulation and smart cities.
Ian Munro is the Chief Economist for the Halifax Partnership, leading a team of economic researchers and policy analysts. He talked a lot about how structural changes in workplaces since the 1980s, such as companies becoming more flatter in hierarchy as retiring high-level employees retire and are not replaced. Instead of chasing cheap operation costs, businesses in this region now are looking for the best value for their money including access to a highly educated workforce, and on the key characteristics that will keep workers here. Instead of concern about high unemployment, we're worried about decreased availability of labour.  Labour shortages will not be evenly distributed across industries. In Atlantic Canada, 50% of entrepreneurs had difficulty hiring employees int he past year, slightly higher than other regions in Canada. We have responded by encouraging an increase in the population by attracting new people and retaining recent graduates. We've seen record levels of population growth through record levels of immigration since 2008. International students are also much more likely to stay in Halifax than they were just ten years ago (in 2018, 12% of graduates stayed). After spending 30 years losing youth and young adults, we now have in-migration from other provinces. We need to increase labour force participation among women, seniors, youth, Indigenous peoples, and people with disabilities. We should also improve productivity of existing workers through adopting technolgy, innovation and research and development funding, and skills upgrading.
Sandra MacKenzie spent her career in the Nova Scotia public service, focusing on rural economic growth and innovation, including as Deputy Minister for the Department of Education and Early Childhood Development, Deputy Minister for the Department of Labour and Advanced Education, Acting Deputy Minister for the Department of Economic and Rural Development and Tourism. Her work with the Halifax Port Authority has shown her how much power consumers have–changes to the shipping and transportation industries followed demand for goods sold on Amazon, for example. Our current education systems aren't focused on retraining existing employees–instead of universities, we'll see employers offering training on the specific skills they need. Otherwise, there will be a skills mismatch which could lead to social unrest. Currently, employers are struggling to describe the workers they need–we used to have people at community colleges that would go out to employers and talk to them about the characteristics and skills they were looking for. This is no longer possible. People are still going to want security and benefits from their jobs, even Millennials. In terms of learning in the future, curiosity will be the determining factor. Good policy can help people understand where we're going in the future, highlights risks and opportunities, requires partnerships, and requires both big and little vision and deliberate steps.
Generally, there seem to be a fair number of barriers to employment following the latest trends in Nova Scotia, such as increasing dependence upon technology or increased spending on skills development. The importance of resource-based jobs such as agriculture and fishing, the aging of the workplace, and resistance to innovation and change are significant issues in Atlantic Canada.