Vancouver's progressive food security programs have expanded this year, including pocket farmers' markets and expanded food carts. The result has been more awareness of local foods and more food-related celebration: several vendors were even located in the live viewing areas during the Stanley Cup finals.
Vancouver's farmers markets are great for trying artisan breads, organic meats and gorgeous mustard greens, but like everything in this city, they're expensive. This summer, several Neighbourhood Houses in Vancouver have partnered with local food security groups to offer pocket farmers' markets in areas known as "food deserts". Trout Lake, south of 12th Avenue between Victoria Drive and Nanaimo Street, is one of these areas. The Trout Lake-Cedar Cottage Food Security Network is a non-profit group that runs pocket markets, community gardens, tasting kitchens, and workshops on how to prepare healthy food. This summer, they partnered with the Cedar Cottage Neighbourhood House to establish a year-round pocket farmers market on the third Saturday of each month at Nanaimo SkyTrain station. Interested shoppers buy $1 tokens in advance at the Neighbourhood House, and use them to buy local foods at wholesale prices. TLCC aims to supply local and organic items as much as possible. In May, TLCC expanded their program to partner with the South Vancouver Neighbourhood House: the mobile market will be held at Helping Spirit Lodge (3965 Dumfries Street) and Orchard Park (5988 Nanaimo Street) on the second Saturday of each month, and Brant Villa (2290 East 25th Avenue) and Culloden Court (1375 East 47th Avenue) on the third Saturday of each month.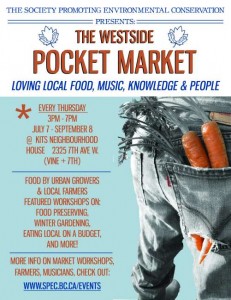 The Westside Pocket Markets are hosted at Kitsilano Neighbourhood House, (2325 West 7th Avenue) every Thursday from July 7th to September 8th from 3-7pm. These markets are hosted by Society Promoting Environmental Conservation (SPEC BC), who run all sorts of fantastic urban food programs. These markets also have a voucher system, so check out their website for more details.
Another fantastic boost is Vancouver City Council's recent decision to expand its Mobile Food Vendor program. Last year, a lucky 17 vendors were chosen to pilot the program and have been wildly successful. Vendors are selected on a points system determined by their foodsafe certification, previous street food vending experience, cart readiness, commitment to local, organic and fair trade foods, menu innovations, nutritional content, and waste reduction/green packaging. Council decided to add a further 19 vendors this year; many were profiled in the media, including CTV News ("From tacos to takoyaki", April 4), the Georgia Straight ("Vancouver's new food trucks off to a fabulously tasty start," May 18), and The Globe and Mail ("Vancouver vendors serve up food a la cart", June 10). Here's the list of new vendors, and 2 apps to help you find them:
Cartel Street Food: Korean tacos, west side of 500 Dunsmuir St.
Chawalla: Indian teas, parantha (stuffed Indian flatbread), east side of 800 Howe St.
Didi's Greek: souvlaki, spanakopita, south side of 1700 Robson St.
Feastro: tacos, fish and chips, Thurlow Street at West Cordova Street
Finest at Sea: seafood, southeast corner of Robson and Hornby streets
Gourmet Syndicate: Asian fusion, east side of 900 Burrard St.
Kiss Kiss Banh Banh: Vietnamese subs, northwest corner of Howe and Robson streets
Mangali: shishkabab, salads, north side of 900 West Georgia St.
Mom's Grilled Cheese Truck: sandwiches and soups, 600 Hornby St.
Off the Wagon: tacos, 600 Howe St.
Osa Tako Hero: takoyaki (octopus balls), south side of 800 West Pender St.
Roaming Dragon 2: comfort foods, east side of 800 Burrard St.
Soho Road Naan Kebab: Indian fusion, west side of 900 Howe St.
Tacofino Cantina Inc: tacos, burritos, 1800 Morton Sts
TBA: souvlaki, north side of 800 Dunsmuir St.
The Hut: vegetarian, south side of 1200 Pacific Blvd.
The Juice Truck: juice and smoothies, 200 Abbott St.
The Re-Up BBQ: barbecue, south side of 800 Robson St.
Trailer: Asian barbecue, west side of 1100 Burrard St.
The Food Vendor program will grow by 60 new vendors in the next four years. This year, the City also held a public survey to determine which types of food were in high demand, so check their website to vote next time around. Korean tacos or Asian barbecue, anyone?