What Valérie Plante's election means for planning in Montréal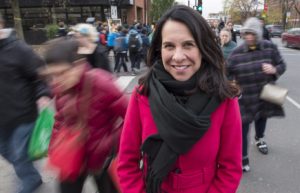 Montréal is decidedly a different place after electing its first ever female mayor, Valérie Plante, on November 5th. Plante will take office during the city's historic 375th year. Portraying herself as "l'homme de la situation"/the man for the job, Plante managed to unseat Denis Coderre (mayor since 2013 and elected six times as a federal MP) by focusing on everyday issues rather than ego-affirming projects like the $40 million Coderre spent to light up Jacques Cartier Bridge. Plante's pedigree as a community organizer and activist is sure to change things up in the planning world, and someone described as "having no ego" is sure to excel in collaborating, forging partnerships, and facilitating action in areas like transportation planning and affordable housing.
Plante's campaign promise for a new Metro line might take two terms to fulfil, but she's already proposing that the Pink Line have stations named after women who have played roles in the city's history. Whether the Pink Line will materialize will largely depend on available funding, considering the other mass transit priorities in the region. She's also advocated for fare reductions for low-income residents and free transit for seniors and kids under 12. Improving safety for cyclists and increasing the number of dedicated bike lanes are also on the table.
Plante's suggestion that businesses affected by construction be assisted with tax breaks from the city might resonate with Haligonians affected by the neverending Nova Centre construction and Argyle Street redesign. Inclusionary zoning, which would require builders to reserve 40% of their units for affordable and social housing, is also a priority for Plante as the traditionally affordable Montréal faces rising real estate prices.
Her win signals a desire for a change in leadership style. Projet Montréal, the municipal party Plante belongs to, also saw 11 borough mayors elected and have the majority with 65 seats on city council. With priorities on culture, sustainability, accessibility, democracy, and community, Projet Montréal was born out of community activism in 2004 and won 14 seats in the 2009 election and 28 seats in 2013.