Breaking news: Rob Ford withdraws from mayoral race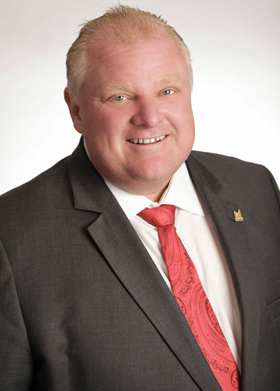 Mayor Rob Ford has dropped out of Toronto's mayoral race following this week's shocking news on his health. Following severe abdominal pain earlier this week, the mayor was hospitalized on Wednesday and underwent a biopsy of a large mass in his abdomen yesterday. Results won't be known until next week, and Ford could have remained on the ballot if he so chose. However, he seems to be playing it safe and attending to his health–something he has historically avoided doing. During the past two years of drama over Ford's addiction issues, he steadfastly refused help until this spring, when he spent some time at a rehabilitation facility addressing alcohol dependency.
The mayor's brother, Councillor Doug Ford, will run instead, but will may not have the same polling numbers as Rob. Doug had been a councillor representing Etobicoke North (Ward 2), but Rob will now replace him in that race. Rob Ford was the Ward 2 councillor from 2000-2010.
Today was the deadline for candidates to withdraw from the race–low-polling candidates David Soknacki and Sarah Thomson withdrew last week. Candidate John Tory, currently polling in the lead, will face off with Olivia Chow, who until today polled in third place after Ford.