Green bonds will help fund Eglinton LRT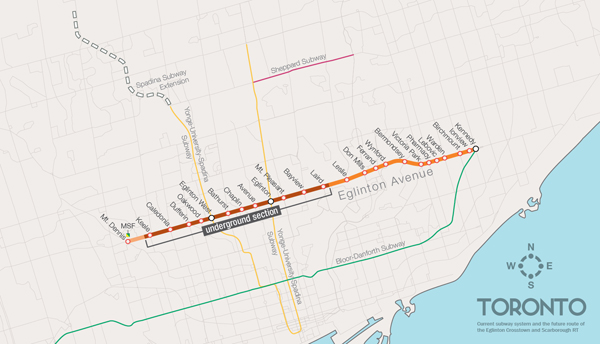 The Province of Ontario will issue green bonds to help raise money for construction of the Eglington Crosstown LRT, making it apparently the first government in Canada to use such a funding tool to pay for infrastructure. Premier Kathleen Wynne mentioned green bonds as a possible funding mechanism in her spring campaign.
Green bonds were pioneered by the World Bank in 2008 and can be issued for a specific project, a combination of projects, or to contribute to a fund for interrelated green investments (e.g. water treatment facilities using green technologies). The Economist reported in July 2014 that over $3 billion in green bonds were sold in 2012, skyrocketing to almost $20 billion in the first half of 2014. Although this is still only a fraction of the bond market, The Economist noted that "compared with most streams of income for environmental purposes, it is huge" and that the green bond market "appeared out of nowhere".
The Ontario green bond program will be used to fund a range of sustainable projects across the province:
public transit
clean energy
energy efficiency and conservation
forestry, agriculture and land management
climate adaptation
The Eglington Crosstown, part of Metrolinx' 25-year, $50 billion strategic plan The Big Move, is expected to be finished in 2020 at a total cost of $5.3 million. About $500 million is expected to be raised through green bonds.