Canadians vote for change
"Canadians have turned the page on ten long years, and they reject a politics of fear and division."  –NDP Leader Tom Mulcair
This year's federal election has been a nail-biter from the beginning. When the election was called, we heard that the NDP was in an unheard-of lead at the beginning of a long campaign. By late summer, NDP leader Tom Mulcair had slipped in the polls in favour of the Liberals' Justin Trudeau, and polling indicated that if the vote were held in September, it would be a three-way tie. With thirty new seats in Parliament this time around, a party would have to win 170 of 338 seats to form a majority government. After ten years of Conservative governments, voter apathy could be a major issue. In the 2011 election, Stephen Harper's Conservatives won with just 23 percent of the vote–low voter turnout and the NDP's record-breaking number of seats being two reasons for the surprise majority.
But on October 19, 2015, another amazing electoral story unfolded. Atlantic Canada offered the first surprise of the 2015 election, sweeping all 33 ridings and turning the map Liberal red by 9:00 pm Eastern time. No one party has ever taken all the Atlantic seats. Half an hour later, polls closed in Quebec, Ontario, Manitoba, Saskatchewan, and Nunavut.
By 9:41 pm CBC was confident in predicting that Justin Trudeau would be the next prime minister–whether it was in a majority or a minority government–even though BC voters still had 19 minutes left to cast their votes. The 30,000 votes that had been counted so far indicated that the Liberals were closing in on 60 percent of the vote, leading or elected in 52 ridings. At this point, 35 percent of Quebec voters and 40 percent of Ontario voters had chosen the Liberals. The Conservatives were leading or elected in 24 ridings and the NDP were in third place with 8 ridings. CBC correspondent Chantal Hébert said that the determination of majority/minority for the Liberals could rest with BC voters.
Twenty minutes later, at 10:00 pm, the Liberals were leading or elected in 123 ridings with the conservatives at 67 and NDP at 13. Polls in BC were due to close. By 10:10 pm, the numbers were 155 L: 91 C: 22 NDP…with the Bloq Québecois leading or elected in just 7 ridings. NDP strategist Brad Lavigne was still optimistic for the Alberta and BC ridings, calling this "a change election".
By 10:20 pm the riding totals were 173 L: 95 C: 24 NDP:9 BQ, but the CBC was still unwilling to declare a majority. Analysts reported that the gain for the Liberals was coming at the expense of the NDP, who won 105 seats in the 2011 election and now had just over 30, and that both rural and urban areas were turning red.
The Liberals took 34 seats in the 2011 election. As Peter Mansbridge said, four years ago the story was the NDP taking 103 seats and becoming the Official Opposition for the first time ever. This time, another reworking of the national landscape. Calgary Mayor Naheed Nenshi noted that today was a chance to "close the page on this divisiveness, this difficult rancour that we've seen over the past three months." Nenshi had spoken out against Conservative tactics such as the infamous niqab issue.
At 10:37 pm CBC was "now prepared to declare that the Liberal Government of Justin Trudeau will be in majority tonight." The riding total was 184 L: 100 C: 29 NDP:9 BQ. The CBC compared the electoral map of 2015 to that of 1980, and ran a clip of Prime Minister Pierre Trudeau who began his victory speech with, "Well, welcome to the 1980s."
In my home riding, Toronto-Danforth, incumbent Craig Scott narrowly lost to Julie Dabrusin…who? I have to say that I hadn't even heard of her, or seen any Liberal signs in my neighbourhood, which was dominated by incumbent NDP Craig Scott and the Green Party's Chris Tolley. But most of the Toronto region went red.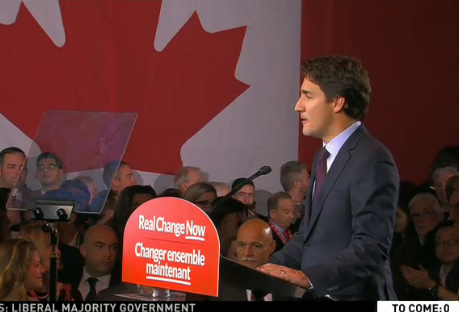 On what CBC correspondents called "a bad night for the pollsters" and "a crushing night for the NDP", the Liberals saw their first majority in Québec since 1980–when the elder Trudeau won. Chantal Hébert said it was the second election in a row where Québec voters embraced federalist parties. Only one-third of Quebec voters went Liberal, but the party won as many seats as Pierre Trudeau in 1980.
Prominent NDP MPs like Peggy Nash (Toronto Parkdale-High Park), Andrew Cash (Toronto Davenport), and Pat Martin (Winnipeg Centre), lost their seats. Justin Trudeau won his riding (Papineau), and Tom Mulcair kept his (Outremont). In Stephen Harper's Calgary Heritage riding, he captured 67 percent of the vote and was in safe blue territory in Alberta. However, by the end of the night the Conservative Party had announced his resignation as party leader–at 56 years old, Harper had reigned as prime minister for a decade.Bloq Québecois leader Gilles Duceppe lost his seat. Green Party leader Elizabeth May kept her Saanich-Gulf Islands seat–but it was the only one the Greens got.
Trudeau stated in his victory speech that Canadians voted for real change, that "this is what positive politics can do…Canadians from all across this great country sent a clear message tonight." He portrayed himself as a leader who listens to voter concerns, saying his party took the "old-fashioned approach" of meeting with as many voters as possible and hearing about the kind of country they wanted. He claimed the values of openness, transparency, and trust.
The final riding breakdown at midnight Eastern time was 189 L: 102 C: 36 NDP: 10 BQ: 1 G. When all the polls had been counted in the wee hours of the morning, the total was 184 Liberal, 99 Conservative, 44 NDP, 10 Bloc and 1 Green. A quick look at the vote share shows that the NDP and Greens would have gotten more seats if we had proportional representation–but it may have cost the Liberals their majority.
Welcome back, Canada.