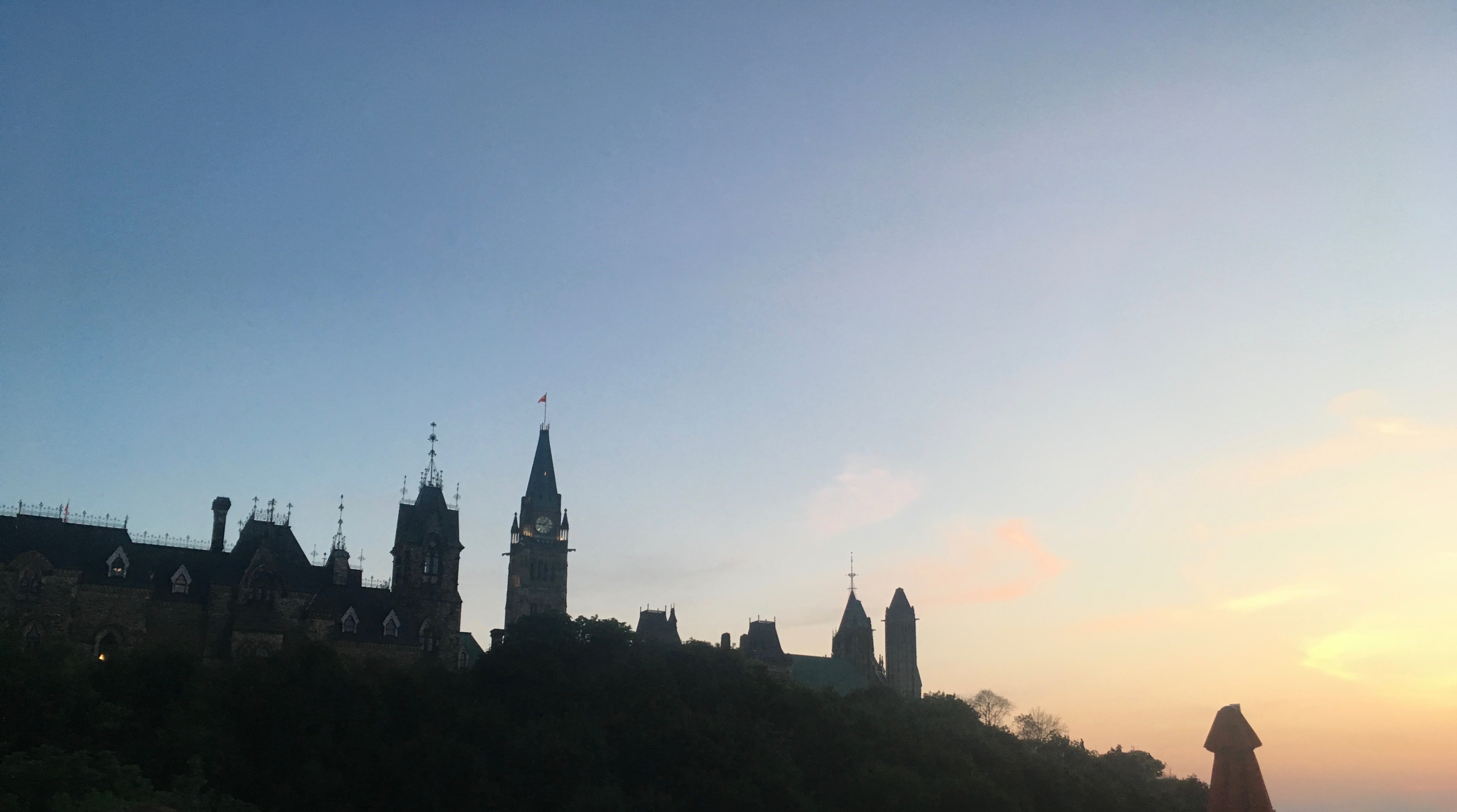 Celebrating the 100th Anniversary of the Canadian Institute of Planners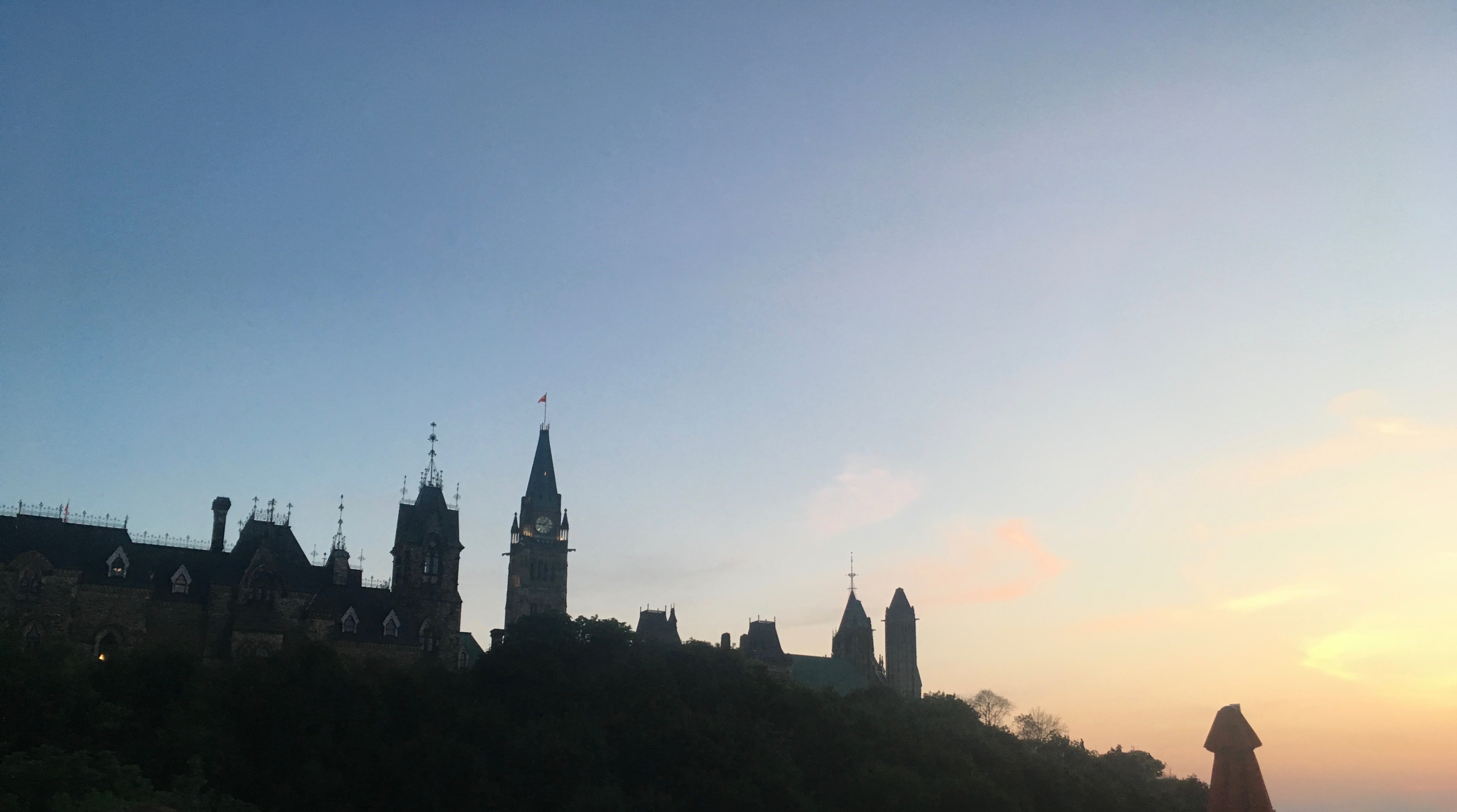 I'm live blogging today from the Canadian Institute of Planners conference: centenary edition! CIP celebrates its 100th birthday today and 800 planners have converged around the capital to learn about interesting and challenging things experienced in municipalities across the country.
Keynote panel
This morning featured a keynote panel moderated by Dr. Leela Viswanathan, Director of Queens University School of Planning. Panelists Eleanor Mohammed (President of CIP), Alecia Boddie (Community Planner, Government of Nunavut) Larry Beasley (planning consultant and former co-director of planning for the City of Vancouver) answered questions such as what impacts technology is making in their communities and what planners need to do co cope with urgent issues like climate change. Props to the Town of Beaumont, which Eleanor described as a real innovator in automated vehicles. She said we need to be less bureaucratic and more quick and nimble as planners. Alecia noted the difference that high-speed internet had already made in the 12 communities that she works with in the Baffin Region.
Social inclusion and NIMBYism
In a session on the relationship between social inclusion and NIMBYism moderated by Julia Markovich (CMHC), Saide Sayah (City of Ottawa) said that in public meetings, City of Ottawa staff give participants the context of housing affordability and housing services in the system, as well as details on John Howard Society, the non-profit who leads affordable housing development in Ottawa (with residences for youth, women, and people exiting the justice system). Then City staff presents the proposed housing project and listens to residents' concerns. Shepherds of Good Hope (The Oaks) was one such projects, a former hotel that was turned into a residence for 55 chronically homeless men and women. Residents were very concerned about the project, but then-Minister of Housing Jim Watson (now Mayor) and the Chief of Police supported the project.
John Howard Society built another project on Gardner Street with an Action Ottawa Capital Grant and provincial funding through the Investment in Affordable Housing program. The project houses 34 chronically homeless men. Saide described how one resident thought the project was going to ruin her street and neighbourhood, but a few years later she and her husband volunteer there and completely understand and support this type of housing.
Joshua Bridges (Carruthers Residence) discussed the need to include key people in such as community organization leaders in the engagement process. They also responded to some negative behaviours that were occurring when the residence first opened, and developed a strong relationship with the local police officer, who engages with residents and staff of the building and legitimizes the project to the broader community members. Joshua mentioned that local residents know the number for the residence manager and can call 24 hours a day7 days a week if there is an issue.
Barbara Levine and Sahada Alolo (Multifaith Housing Initiative) provide housing for 80 different faith communities with five properties. Their latest project was the first they built–the others were renovated buildings–and includes 98 units and a community space which helped mitigate some of the community's concerns about the project. Each household has a representative linking them to the broader community so they find out about activities. They're now turning their efforts to a new Veteran's House with the Anglican Diocese, and they have been engaging with small groups rather than holding large public meetings.
Josée Dion (CMHC) discussed a research project CMHC has conducted on NIMBYism. The Oaks project presented earlier used a door-to-door campaign, public information session, and support from a councillor and local police chief to address NIMBY concerns. Olivia Skye, a project in Vancouver's Downtown Eastside, residents' concerns were for the extreme low-income needs in the community–with 198 units, 54 were affordable to these residents. For the Steve Cardiff Tiny House Community in Whitehorse, supporting voices came to public meetings, the media helped communicate the rationale for the project, and the project aligned with the City's 10-year plan on homelessness.
Planning skills and expertise
This panel featured planners discussing their careers in planning, why they decided on this degree, and how they had shifted into their current role. Some of their advice included: becoming comfortable with a new definition of "planner" (we don't all do land use planning), accomplish one thing every day (even if it's just for you, it matters), aim to be persistently patient (change happens, just not on the timeline you expect), share your knowledge, invest in yourself (set aside some time and funds for your own development), remain open and curious, and say yes to volunteering opportunities. The room was in a fishbowl format, so people could join in and tell the group about their experiences. One young woman discussed the latter point–she had started in a new role at her organization and had gotten overwhelmed with a range of new duties. Another asked for advice on moving to a new organization where there was a lot of conflict.
Indigenous history
On the second day of the conference, Dr. Hayden King of the Anishnaabe (Beausoleil First Nation) did an amazing talk on the history of Indigenous peoples and settler interaction. Using historic and current maps (shout out to Nativeland.ca!), he discussed the history of distrust and manipulation, including blank treaties and broken promises, that comprise colonization of Canada. Treaties from 1763, 1764 and the modern treaties were all discussed. For those of us who are still fairly new to reconciliation and need to learn this history, it was very compelling–as professors, it's great to be able to learn firsthand from Indigenous scholars, so that we can bring this knowledge to our students.
Adaptive reuse for affordable housing
Dana Anderson Kelly Martel (MHBA Planning), John Barnesby (retired planner from Niagara Falls) have been working with the city and SHS Consulting on converting two motels in Niagara Falls into affordable housing. The hotels offered longer term stays throughout the year or seasonal use. Two years ago, they had a couple of applications for rezoning–the hotels (the Carriage House and Continental Inn) were already being used as rooming houses. The city approved this, but the Lundy's Lane BIA opposed it, so the city held development for two years. In January 2018, MHBA began a study involving site visits, best practice review, and stakeholder consultation (including with people who currently live in hotels), and workshops with a technical advisory committee. They found that there isn't a clear definition of boarding houses, and hotel rooms are contained in a way that boarding house rooms are not. At least 75-80 properties in the Lundy's Lane area were being used for temporary housing in 2018. Niagara has a disproportionate share of low-income people and seniors, and vacancy rates for 1-bedroom and bachelor rates are 0% and 1.8% respectively. The rents are $599 for a bachelor and $811 for a one-bedroom. So the motel units are providing an option that doesn't exist–low-rent places for people on fixed incomes, even for new students who are being directed to this housing option. A collaborative approach that addresses issues of compatibility of use and maintains the commercial uses on the street was desired.
MHBA looked at case studies of municipalities (London, Ottawa, Oshawa, Vancouver, Edmonton, LA, Florida). In Florida, there have been public-private partnerships to house veterans or people who work in the local hotels. For example, Florida allows this use for the next 10-15 years or until the housing crisis ends there, through this "Hospitality Helps" program funded by local hotels, business owners, property management companies and government agencies. Vancouver protects single-room occupancy units. MHBA did not want the hotel owners to have to deal with a lot more regulation that would make it difficult for them to operate, and they presented three potential options for adaptive use. Quite a few of the units need significant upgrading, there were some concerns about fire safety and quality of the units, and some concerns about the impact of the residents on the community. However, 70-80 percent of the residents were very happy with the housing and about 10 percent needed additional support, e.g for mental health of addictions. Some properties have services such as advice on life skills, shared kitchens, etc. for residents. Some non-profits are providing needed support, and even residents themselves are volunteering to keep the properties in good shape.
Unfortunately, MHBA's entire list of recommendations (including a recommendation for demolition control) was refused by the City Council and they want it to go to the Region and Province for consideration, which was extremely frustrating considering the two years of research. One major concern was that there are now long-term tenants who have claimed that they have the right to remain in their units under the Residential Tenancies Act and Landlord and Tenant Legislation–the city was worried that regulating the hotels would result in hundreds of leases and make it very difficult to remove tenants. MHBA noted that they learned that there are already some amazing things going on in terms of housing vulnerable residents, that a technical advisory committee was necessary in early and ongoing consultation, evidence-based research really helped them make their recommendations to council, and there was a lot of effort made into how the solutions would be implemented and monitored with the help of social agencies. MHBA will continue to work towards a solution.
Industrial redevelopment
Bill Kiru (City of Vaughan), Susanne Glenn-Rigny (CN), Maurizio Rogato (Blackthorn Development Corporation) presented on the redevelopment of the largest intermodal rail yard in North America. In Vaughan the trains get taken apart and put back together so they can continue across the country–MacMillan Yard was built in 1965 when there was no development around it, in contrast to many railyards that were located right in the city centre. The squealing of the cars on the tracks can be heard from 1.5 km away, and 1 million cars go through the yard each year. This is really the only impact on the community since the trains are not going through at all. Vaughan's population in 2019 in 330,000 and is projected to increase to 500,000 by 2040. There has been some pressure to remove employment lands from the area near the railyard and rezone them as residential. Redevelopment projects in the Vaughan Metropolitan Area are quite tall, up to 60 stories, and there is a bus terminal and fairly developed green spaces and pedestrian connections.
Developers feel that the concentration on costs and pro formas, noise concerns, and the administrative process involved are the main challenges. They're focusing on standardizing their approaches, e.g. setback distances near rail, enclosed balconies, in collaboration with the Province. Another challenge is missing middle-income housing, rather than just high-end options.
For CN, redevelopment of the area has to hinge on economic development, because transporting goods is what built the country. Intermodal delivery of goods is the norm across the vast country. CN can appeal development decisions to the Local Planning Authority Tribunal (LPAT, formerly Ontario Municipal Board), which takes a minimum of two years. CN can also be told to mitigate an existing building for noise if they change their operations. CN can get a warning clause registered on the land title stating that there are existing noise issues associated with the rail operations in Ontario, which doesn't happen in other provinces. CN does not recommend residential development within 300m of the railyard.
Gaming community engagement
Dy Curry (City of Brisbane) discussed the city-wide engagement process that Brisbane used to get residents to play a planning game online. The four themes that kept coming up were lifestyle, green space, transport, and affordability. They ran the engagement process from Sept 2017-July 2018 including an intergenerational forum, Snapchat campaigns, Instagram, Youtube, drawing and postcard competitions for children and youth, and notifications mailed out to every resident of the city. They had 20,000 web hits, 5,200 survey responses, 86 pop-up events in 76 days, and one Snapchat ad generated 10,000 hits for their planning game within an hour. Pedestrian TV, geared to teens, created a youth version of the game, and there were ads in local cinemas, on billboards, and on buses.
The game itself asked users to make tradeoffs to accommodate future growth in the city–about 340,000 new people by 2041. There are a number of goals, e.g. accommodate 100 new people, and when you make a decision between high-rise, mid-rise, or single-family homes, the game tells you the impacts on the four goals of lifestyle, travel time, green space, and affordability. At the end of the game it tells you the overall impact on the four goals, e.g. a 13% increase in lifestyle, 2% decrease in travel time, 12% increase in green space, and 25% increase in affordability. Players then got to comment on their plan if they wanted to. We got to play the game ourselves during the session, which was really cool!
Dy told us that city staff heard stories about children playing games with their parents, and telling them that they didn't want the future their parents did–they were happy to share open space and have a smaller housing unit, for example. Dy said this helped shift the conversation in the community because this type of thinking wasn't led by the planners, but the kids. In total 118,000 people played the game–96,500 living in Brisbane and 82,600 of those unique users. One in five households participated and there were residents from every suburb and every age group. 15,000 ideas were generated. The City issued a report six weeks later to make sure residents were kept up to date. The final output was Brisbane's Future Blueprint with eight principles and 40 actions to guide the city's development in the future, as well as an interactive website to allow people to track these. For each of the principles, a quote from a resident was included in the Blueprint. All the actions are due to begin within 18 months.
Engaging the next generation
Four young people from Urban Minds gave us a real eye-opener on youth participation from their own work in Toronto. Ryan Lo introduced us to some of the challenges youth face in attending events: accessibility, perception/transparency, intimidation/marginalization, outreaching/branding/awareness, youth representation and relevance/trust/relationship. The 1Up Toronto conference aims to bring awareness and education to youth, and involve them in co-creation of an event. Janice Cheung discussed how to get the participants to curate social media posts, encouraging 70 students from 29 high schools to attend their event–a design event involving planners, architects, landscape architects, and urban designers. Over the past few years, participants worked on the Bloor and Dufferin revitalization plan and the redesign of the York Woods Library near Jane and Finch. Some of the winning ideas were the Socialization Hub, which had a bulletin board with job and volunteer opportunities in their communities, the Grub Hub for youth who didn't have many food options at home, the Study Station for youth to study and meditate, and "Connect You", an app to connect them to clubs and groups in the neighbourhood and allow them to connect with each other.
The 1Up Leaders Lab is a 3-day event for those who have completed the conference and want to take it to the next level. It includes a scavenger hunt which gets youth off their phones and observe what's around them, walking tours led by a local expert from The Bentway, which showed Urban Minds what aspects of the neighbourhood youth focused on or lingered around. They did empathy mapping, getting participants to go through a day in the life of someone with accessibility issues. Participants pitched their ideas to The Bentway, which gave them a real voice in the programming the non-profit provided.
1Up School Chapters happen over the school school year, engaging them in education, need-finding, and co-creation with planners, architects, and landscape architects. One project was redesigning an unofficial crosswalk on Doris Ave across from their high school in North York: students did site observation, interviews with people who were jaywalking, and read about examples around the world. Their solution was a pop-up crosswalk, which they proposed to their local councillor along with a petition from the students. Council approved the installation of a pedestrian crosswalk signal.
Urban Minds then led us through an exercise where we each wrote about a project in our community that needed youth engagement and asked how we would engage youth using some of the methods they had discussed. Angela Ng noted the 8 rules of youth engagement:
involve youth in co-creation
seek trailblazing ideas
treat youth as experts
invest in youth early on
be creative and intentional
meet youth where they are
build up youth champions
shape a future that youth desire
An inspiring session from an all-visible minority team with gender parity! Urban Minds, you are amazing.
Summary
This year's presentations brought together planners, developers, non-profit organizations, and all three levels of government. As always, I'm inspired by the work planners are doing across the country–in my own workshop on rental housing policy, we heard some pretty innovative solutions from cities like Whitehorse–as well as the keen observations and debates shared during the social events. Fun events like a party looking back to 1919 and one looking to the future, the opportunity to add a note to a time capsule, and record a video to commemorate the 100th anniversary upped the fun!