The 2010 Olympics, the 21st Winter Games, has now officially marked Canadians forever. Despite an initially lukewarm welcome from many Vancouverites, this Olympic Games has proven to be one that has made all Canadians proud of their country. From the first gold won on Canadian soil (Alexandre Bilodeau) to the record number of gold medals ever won by any nation (13 as of today), Canadians achieved many firsts this Olympics. But the true experience of these Games had to be experienced on the streets, in local bars and eateries: the spirit of the people who call this great, wintery country home.
Although I'm not originally from Vancouver, I've lived there for five years. I'm currently in the middle of PhD fieldwork in Toronto, but was lucky enough to be back in Vancouver for the second week of the Olympics. I was inspired to write this post, which departs from my usual commentary on urban issues, by American speed skater Shani Davis. After winning his silver medal in the 1500m, Davis remarked to Stephen Colbert that "We think Americans are patriotic, but Canadians…wow."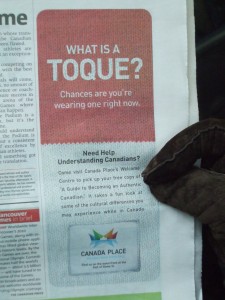 As the 2010 Olympics approached, indeed, there was little excitement among Vancouverites who generally don't want any more people to know about this spectacular natural setting they call home. In fact, when I told friends I'd be in Toronto for the semester, but back for the Olympics for a week, they laughed at me. Most Vancouverites, they claimed, couldn't wait to get out of the city for the "quadrennial cold weather athletic competition," as Stephen Colbert called it. The first full day of the Olympics was marred by protesters, a few of whom smashed in the windows of the Hudson's Bay flagship store downtown, where thousands lined up each day to buy Olympic gear. Despite the Own the Podium program, which has been controversial, many doubted that Canada would exceed its record number of medals won at an Olympic Games: 24 won in Torino in 2006. Much speculation arose about the medal hopes of our athletes, even as they were profiled in prominent news spots.
But as the patriotic commercials started in January, from Coke's "Let's make sure everyone knows whose game they're playing" to the Tim Horton's "Hockey…it's our game"…well let's face it, most of us jumped on board. One of my friends, who lives in Victoria and attended quite a few Olympic and Cultural Olympiad events, said she found herself "unexpectedly and inexplicably swept off my feet by the Olympics." The many free events available, from concerts to cultural exhibits and art installations, to ziplining and riding the demonstration streetcar at Granville Island, made this an Olympics that everyone could enjoy.
We aren't very patriotic at the best of times, and in a country with very high immigration rates, many of us tend to retain allegiance to our birth countries. A common sight at these Olympic Games, as I watched on in women's hockey, women's 5000m speed skatng and men's and women's team pursuit, was the spectator waving two flags: a Canadian one and the one of their home country. A prominent Tim Horton's ad during the Olympics featured an African immigrant to Canada buying his wife and children warm clothing for their arrival in Canada. For the most part, Canadians are a tolerant bunch, and the atmosphere at the Olympics was generally one of support of other countries rather than competition. I saw Chinese fans clapping and cheering for the Slovakians women's hockey team at their quarterfinal game, orange-clad Dutchmen cheering on the Czech speed skaters, and yes, even Canadians cheering on their American rivals. At speed skating in particular, there were cheers each time the skaters reached our section of the Oval, regardless of their nationality.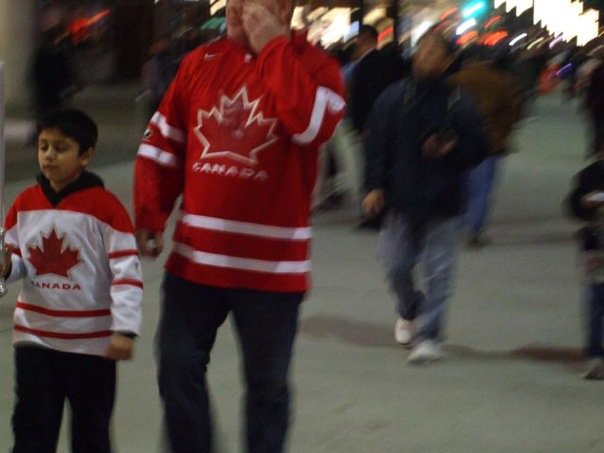 But hockey…well, that's another thing altogether. There are few issues that Canadians get passionate about. It's not surprising that the Coke and Tim Horton's commercials feature hockey, one of the few issues that bind us all together, native-born and immigrant, young and old, men and women. Before and after any Olympic hockey game, the streets downtown were full of fans wearing red and white jerseys, carrying signs and belting out the national anthem.
One of my favourite experiences of the Games was watching both the Canadian men's hockey quarterfinal game and the women's gold medal game in the traditional way: in the presence of fellow Canadians at a bar.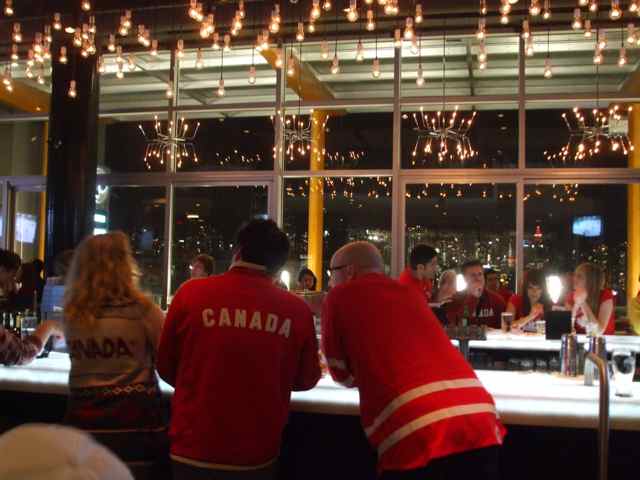 We arrived a half hour before the game started and snagged one of the few remaining seats with a view of a flat-screen TV. Every penalty, every shot that went in, and every missed shot was met with cheers and gasps from an electric roomful of Canadian hockey fans sporting red and white. The women's hockey gold made Canada the only nation to have ever won ten Olympic medals in hockey. My dad, who is not a sports fan, called me later and said he never enjoyed himself as much as he did watching that gold medal game.
Canadians had much to celebrate in the second week of the Games. A stellar performance by Tessa Virtue and Scott Moir lead to our first gold medal in figure skating. A truly heartbreaking short skate by Joannie Rochette, mere days after her mother died suddenly in Vancouver, ignited the flame of pride in everyone who watched her skate. Her courage allowed us to win two medals in figure skating for the first time since the 1988 Calgary Olympics. I personally witnessed Clara Hughes, the only athlete in the world to have won multiple medals in both the Summer and Winter Olympics, capture a bronze medal in the final race of her career. In men's team pursuit, I saw the Canadians break an Olympic record in the quarterfinal, then break it again in the semifinal; they won the gold medal today in that event. Men's curling has twice been interrupted by Canadian fans singing O Canada, and with good reason: the team won us our 13th gold medal today.
Although the Winter Olympics generally is not as popular as the summer Games, in my eyes the Winter Games are truly Canadian: we are, Vancouver notwithstanding, a country of snow and ice. We grow up playing road hockey and tobagganing, figure skating and skiing. Only at the Winter Games have Canadian athletes achieved so much, and the patriotism that surrounds our winter athletes is something fierce. As I got ready to fly back to Toronto, our men's hockey team was playing in the semifinal game against Slovakia, so I caught the last few minutes of the game at the Vancouver Airport. Everyone gathered around the TV screens, airport staff and food vendors alike taking prolonged breaks to watch the intense last four minutes of the game as Canada narrowly avoided defeat by a strong Slovakian team.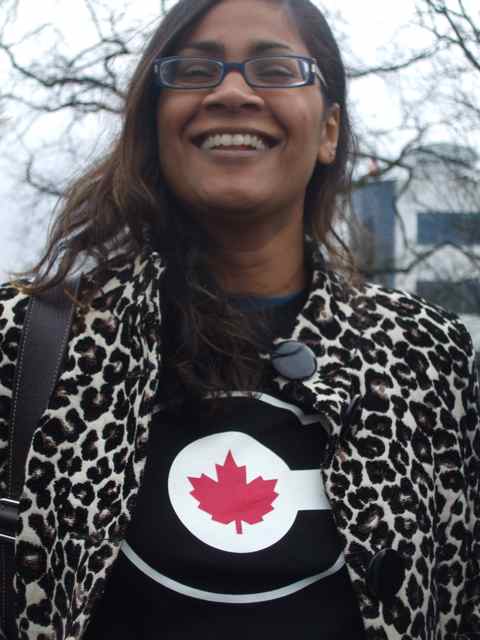 As the medals continued to mount in Vancouver, and the most successful 18 hours in Canadian Olympic history led to the most gold medals ever won by a host country, it became difficult to contain my love of my country. As I write this, the men's hockey team is poised to play the gold medal game tomorrow against their old rivals the Americans. Their win would snag us 14 gold medals. We are positioned in the medal standings among other great northern countries: Norway, Germany, Austria, and Russia. And yes, we achieved our goal of a top-three finish in the medals standings.
A CTV anchor commented that the atmosphere in Vancouver was "like Canada Day in Ottawa…except every day." Having lived in Ottawa and experienced the intensity and patriotism of that celebration, I agree. Canadians made me proud this Olympic Games, both the athletes and the thousands of fans who filled this normally grey and serious city. It was amazing to have felt the goodwill of spectators from around the globe, and to have been among thousands of fellow Canadians walking the streets of Vancouver in celebration as our athletes achieved so much for their country. I lived in Alaska during 9-11 and the 2002 Salt Lake Olympics held just a few months later. While living in the rival country, I cheered on the Canadian men's and women's hockey teams as they captured gold medals. Given the recency of 9-11, I didn't feel that I could wear my country's colours or flag: everyone was treading lightly in those days, and I was living in a very Republican state. This is one reason it was such a thrill to be among my red-and-white-clad brethren, cheering on our athletes on home soil. You can take the girl out of Canada, but you can't take Canada out of the girl.