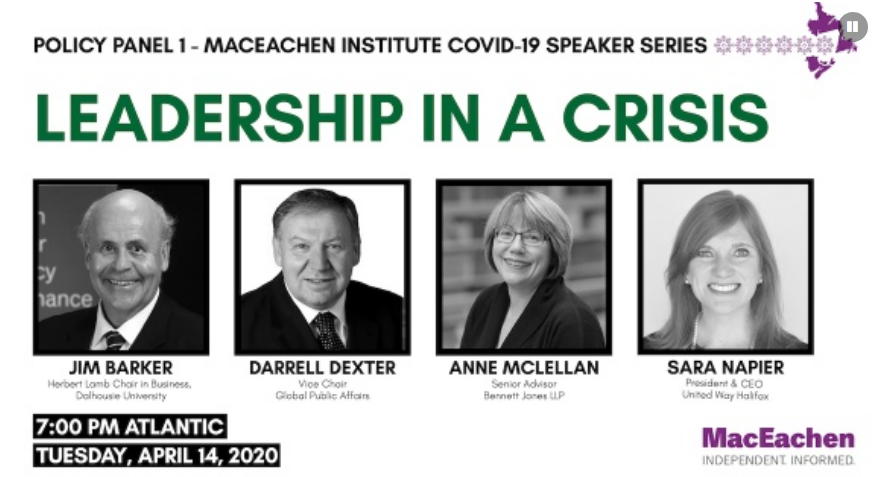 MacEachen Institute is doing a live webinar tonight on Leadership in a Crisis, as part of its new COVID-19 series. Tonight's speakers are Anne McLellan (former MP for Edmonton Centre and involved in a number of federal ministries), Darrel Dexter (former NS Premier), Sara Napier (President and CEO of United Way Halifax), and Jim Barker (Herbert Lamb Chair in Business at Dalhousie).
Anne McLellan told us that governments have to be nimble and flexible to response to crises. For example, we had never thought that during 9-11 there would be thousands of flights that could not land unless we opened our airspace. But because our deputy minister of transportation and prime minister were able to act quickly, we were able to make a quick decision.
Vigilance is important during crises–you have to pay attention to all the available information and data, and you can't let up. This is very tiring for first responders but politicians must lead by example.
Clear communication is necessary. People want to hear from their government, and it's important to be transparent about what you know. This allows you to built trust with the public–this is why we see the Prime Minister, premiers and chiefs of medicine in the media daily during COVID-19.
Crises provide elected leaders with opportunities. During SARS, some of the gaps in our health care system were exposed, and after the crisis we focused on rebuilding the system. Leaders need to deal with the crisis but also think about how things can be improved for Canadians in the future.
Perfection is the enemy of action. It's not possible to make the perfect decision when information is unavailable and constantly changing. Leaders acknowledge the fact that responses are not perfect, and that they will fix it afterwards. Right now, the Prime Minister and leaders are constantly tweaking programs as they are implemented.
Leaders don't micro-manage. They set the frame and lead the team–it's a waste of their time to do this during a crisis.
The longer the crisis lasts, the more blame you will see. Leaders have to make more decisions, but they can't respond to every misinformed allegation or accusation. They can't get defensive. There will be plenty of time after the crisis to deal with every challenge or accusation.
From Darrel Dexter, we heard about some of the difficulties in dealing with the H1N1 crisis. Dexter views crises from the Greek definition, as moments of judgment or decision. H1N1 was declared a pandemic two days after Dexter became premier in June 2009–but the financial crisis was also in full swing. He noted that:
Pandemic planning is an ongoing function of government–they are not reinventing the wheel every time, but are constantly applying lessons they've learned during H1N1 and 9-11.
There needs to be an organizational response (e.g. keeping lines of communication open, ensuring responsibilities and mandates are defined and assigned). This is difficult when most governments are not known for speed and precision. During H1N1 the health care community was divided by various unions. The Good Neighbour movement allowed the various providers to work together to ensure needs were met.
There needs to be a communications strategy. The public has to understand the instructions you're giving them. The Minister of Health during H1N1 assisted in delivering information during H1N1 but it was medical professionals who were up front addressing the public.
One of the lessons we'll probably learn this time is ensuring supply of personal protective equipment for health care workers.
Sara Napier pointed out that United Ways are always working under conditions of crisis. This helps them innovate and have a strong ambition for good. COVID-19 is exacerbating social problems like homelessness, mental health issues and addiction. In Atlantic Canada, United Ways have established the Atlantic Compassion Fund to support people experiencing homelessness, food insecurity, job losses, or others struggling to meet their basic needs. The fund will help equip communities to come together again when the time is right. The fund raised over $1.6 million for the Atlantic Provinces in the first three weeks and hundreds of thousands of dollars (around $350,000) have been distributed in Halifax alone. For her, leadership characteristics include:
Being decisive, confident and calm. Leaders have to set the right tone and provide assurances when possible.
It's much more important to let people know they're being supported than getting the funds or programs exactly right.
Demonstrating genuine care for the people you serve is critical. Leading and understanding with your heart is important.
Being transparent and direct, including being willing to say, "I don't know the answer yet."
Being adaptable, and having a learning mindset which is important when conditions are changing rapidly.
Being creative, and open to new thinking during conditions of extreme necessity.
Being collaborative and taking a systems view for developing solutions.
Thinking beyond the present to the "next", and the "after".
Expressing gratitude and having a healthy mindset.
Focusing on the lasting change and legacy from the crisis.
Napier noted that working in a world of complexity, unpredictability, and wicked problems is challenging. She is now concerned about the ability of non-profits to continue to serve the community post-COVID, particularly focusing on what we're accomplishing together. She believes we must ask ourselves what the most important lesson is from this crisis–what will be the legacy of COVID-19? e.g. what's the permanent solution to social distancing at homeless shelters?
Jim Barker spoke about leadership being collective–reactions to information, to statements from government, are a collective reaction to moments of judgment. How do we position ourselves as leaders in situations like this?
People need stability. This doesn't mean everything is constant and static. It means that we can move forward in a useful and positive direction. Organizations need a purpose: that may be well-defined for non–profits but less so for governments. Stability is a key purpose of governments.
Confidence is important–even when all the information is not known. Leaders help us understand our short-term actions that will lead to long-term benefits (e.g. Stephen MacNeil's "Stay the Blazes Home" which has become a local catchphrase)
Consistent communication lets people know how we will move forward. Premiers and chief medical officers speaking at the same time of the day, giving people the same messages repeatedly, helps to reassure people.