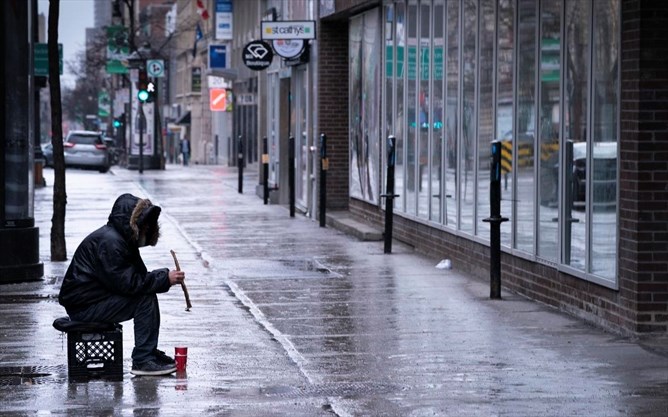 Housing vulnerability during the pandemic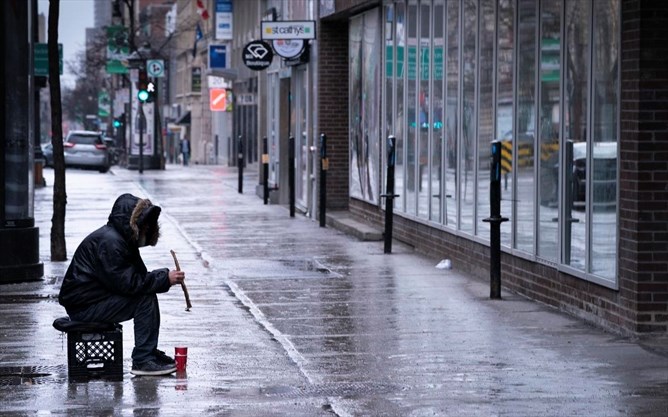 Nothing illustrates entrenched values and inequity like a pandemic. Not only are some communities not receiving desperately needed COVID-19 tests, but some have even been singled out for flaunting public health advice through public gatherings in an era of social isolation. In Canada, governments are scrambling to provide supports for individuals, businesses, and industry. Inequities are very clear in government responses to housing vulnerability: the first housing assistance the federal government announced to help households through pandemic layoffs was deferral of mortgage payments for six months (March 18). Protection for renters came the following week, and for commercial tenants only recently.
What types of support are governments offering to renters? What about those who are precarious or homeless?
Banning evictions for residential tenants
While assistance for homeowners is still front and centre, advocacy groups such as Leadnow, the Vancouver Tenants' Union, and Regroupement des comités logement et associations de locataires du Québec (RCLALQ) have had to fight for the suspension of rents, utility payments and property taxes, and the ban of evictions during COVID-19. Many advocated tenants to "Keep Your Rent on April 1", with Leadnow's video campaign posting videos from tenants who were worried about their rent payments.
Partly in response to the concerns about displacement among housing activists and service providers, all provinces have to some degree banned evictions for residential tenants (see the graph in Erica Alini's article on Global News, which lists exactly what each province is doing as of March 31). In general, evictions are suspended until a date specified by the province. In Nova Scotia, the province banned evictions for three months (until the end of June), but this is limited to people who cannot afford their homes; tenants can still be evicted if their income has not been affected by the pandemic. In Alberta, tenants cannot be evicted for nonpayment of rent or utilities before May 1. In BC, all new and existing evictions have been put on pause, except in "exceptional circumstances"; in Manitoba and Saskatchewan, all but "urgent" cases have been suspended. This hasn't stopped some landlords from sending eviction notices, as the Toronto Star reported on March 31. Discrimination against tenants is rampant, including against an Ottawa nurse who was unable to find a rental unit because of fears she would spread COVID-19. An outpouring of community support resulted in a man offering his co-op unit to her during the pandemic while he stays with a family member.
Several provinces have introduced temporary rent supplements. In BC, this is up to $500 per month which will help landlords whose tenants are unable to pay rent because the pandemic has affected their income (tenants must be are on EI/CERB and meet an income criteria). PEI's Temporary Rental Assistance Benefit will provide renters up to $1000 over three months ($500 the first month and $250 for the second and third) if they do not qualify for the rental assistance program or social assistance.
BC and Alberta have frozen annual rent increases, while Manitoba suspended theirs until May 31. But governments have stopped short of rent forgiveness or even mortgage payment forgiveness at this point.
Extra support for residential tenants
All Canadians who have lost their income due to COVID-19 can apply for the Canada Emergency Response Benefit. Low- and modest-income will automatically receive an extra GST credit (close to $400 for individuals and $600 per couple). Anyone who receives a Canada Child Benefit will automatically receive an extra $300 in May. These efforts are expected to assist the over 1 million Canadians who lost their jobs in March alone. Internet service providers across the country (Bell, Rogers/Fido, Telus, Teksavvy, Videotron) have removed data caps in response to the surge in professionals working from home. Power companies,  such as HydroOne and Nova Scotia Power, have also suspended late payments.
In Saskatchewan, the Self-Isolation Support Program can provide $450 per week for two weeks for those who have to self-isolate and are not covered by other supports. Quebec's Temporary Aid for Workers Program pays residents $573 per weeks for two weeks of isolation, if they aren't receiving other support. Alberta's Emergency Isolation Support Program, now discontinued, distributed $91.7 million in funds to over 79,600 residents who were required to self-isolate.
In New Brunswick, a one-time $900 income benefit is available for lost their income due to the pandemic. For those who have been laid off, PEI is offering a $100 Sobeys gift card to help with the cost of groceries while they wait for their EI payments to arrive (students also qualify).
Programs for commercial tenants
Support for Canadian businesses has been rolling out. At the federal level, the COVID-19 Emergency Response Act (passed March 25) introduced a temporary wage subsidy of 10%. The proposed Canada Emergency Wage Subsidy (announced March 27, to be debated in the House of Commons April 11) would cover 75% of an employee's wages (up to $847 per week) for any employer that has seen a decrease in gross revenues of 15% or more in March and 30% in April and May. The wage subsidy would cover wages from March 15-July 1. Small businesses and non-profits can access the new Canada Emergency Business Account, which will roll out in mid-April through financial institutions. For self-employed individuals, the Canada Emergency Response Benefit already provides up to $2,000 per month for up to four months for those who have lost their income due to COVID-19. Toronto's Centre for Social Innovation published this handy tutorial for anyone who wants to apply to the CERB.
In BC, property taxes have been deferred and school taxes reduced for commercial tenants. A new Economic Recovery Task Force will bring together First Nations, business, and labour leaders as well as non-profits to ensure provincial funding is reaching communities, and to provide guidance and support to essential businesses. PEI landlords who defer rent payments for commercial tenants may be eligible for financial assistance of up to $50,000 per landlord and $15,000 per tenant if the deferred rent cannot be recovered. Landlords must register for the Commercial Lease Rent Deferral Program by April 15. The City of Toronto is giving commercial tenants a 60-day deferral on their property taxes.
Programs benefitting homeless or at-risk populations
Homeless people are at particular risk during the pandemic because most cannot self-isolate, depending on temporary shelter beds and soup kitchens/food banks for their daily meals. Keeping a distances from others may not be possible at overcrowded shelters. The federal government is providing $100 million in funding to organizations such as Food Banks Canada, Salvation Army, Second Harvest, Community Food Centres Canada, and Breakfast Club of Canada, to help buy and distribute food to those in need, provide personal protective equipment to staff and volunteers, and hire temporary help to replace lost volunteers. On March 29, $9 million was also allocated to United Way Canada to help local organizations deliver food and prescriptions to seniors, and connect them with necessary resources such as occupational therapy and online connection to family members) through the New Horizons for Seniors Program. On April 4, the federal government announced that the Reaching Home program will receive $157.5 million to help purchase beds and maintain social distancing in shelters, which will be distributed to municipalities. The federal government will also give Women and Gender Equality Canada $40 million to help maintain operations at shelters and sexual assault centres, and Indigenous Services Canada will receive $10 million for its 46 shelters on reserve and in the Yukon.
Service provision must continue for vulnerable populations at the local level. In the Atlantic Provinces, 11 United Ways joined forces with business leader Tim Rose (Atlantic Business Interiors) to start the Atlantic Compassion Fund, which is being used to support people experiencing homelessness, domestic violence, food security or mental illness. NWT created a Homelessness Assistance Fund to ensure those at-risk or experiencing homelessness can access resources. Ontario pledged over $37 million to meet the needs of Indigenous communities in preventing the spread of COVID-19, including helping local non-profits and charities to supply food and essential services and ensuring access to local airports for supplies. Companies like Fido also launched campaigns to raise money for Food Banks Canada.
To meet immediate housing needs, temporary shelters have been set up in empty community centres and hotels in many cities, including Toronto, Vancouver, London, Hamilton, and Yellowknife.
All levels of government have introduced measures to stabilize housing, but there are still plenty of problems with these approaches for those who are most vulnerable: renters and those experiencing homelessness, food insecurity, and violence at home.
If the pandemic lasts for the next year, as the Prime Minister warned us on April 9th, these temporary measures may become at least pseudo-permanent: we may see governments taking on debt for homeowners and renters, increased rent supplements, an increase in federal government-supported and municipal housing authority-supported housing, and permanent housing for the homeless in structures that can be set up quickly. Canada Mortgage and Housing Corporation will certainly be involved in these types of initiatives, and if history is any precedent, money will flow from the federal to the provincial and municipal governments to provide and manage housing. With industry crippled and unemployment rates expected to stay in the double digits for many months, the capitalist system has fallen to the socialist supports instituted during and after WWI and WWII. It's unlikely we'll return to "normal", whether it's economically, socially, or environmentally. And that means a fundamental shift in the way we are housed and pay for housing.