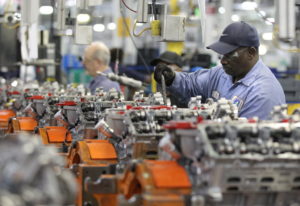 Like many of you out there, I have been devastated to read the daily news over the past two weeks. I've written a little here about how planning is changing during the pandemic, but today I want to write about the heroic efforts of our manufacturers, who are switching their production lines to items that our health care workers badly need in the fight against COVID-19.
Spurred by the stories of Italian, Spanish, and Chinese medical personnel having to make life or death decisions due to lack of equipment such as ventilators, Prime Minister Trudeau called upon industry to step up and help protect our health care workers on March 20th. And did Canadian manufacturers ever step up, joining their contemporaries in the US and Europe.
Mass-producing masks
Dr. Tarek Loubani, a doctor in London, Ontario, is using equipment from his medical supplies charity, The Glia Project, to make 3D-printred face shields for doctors. Loubani's charity also makes stethoscopes and tourniquets for conflict zones and impoverished areas. He credits his experience working in hospitals in Gaza with this expertise and being all too familiar with working in stressful, unpredictable, and overwhelming situations. By March 26, he had printed 200 masks for his colleagues at the London Health Sciences Centre, and they plan to continue supplying others.
Hockey supplier Bauer has pivoted from hockey masks to full-face, single-use visors for health care workers and is hoping to produce 500,000 units once the Quebec government allows them to resume work as an essential business. According to Dan Bourgeois, the company's vice president of product innovation, "We say we're a protective company.… Then why aren't we starting to [make] protection for our doctors, nurses, hospitals, and their needs?" Facilities in Blaineville, Quebec and Liverpool, New York will be producing the visors. Bauer is also working on visors that can be disinfected and reused.
Magna International, the country's largest auto parts manufacturer, is switching to producing masks instead of car seating at its plants in Mexico and Europe (Russia, Serbia, Czech Republic). The company is also testing a device that it developed to disinfect hockey gear to see if it can be used to destroy the coronavirus. Innovative Automation in Barrie, Ontario, are stepping up to produce prototypes for face masks and ventilators, and Molded Precision Components in nearby Oro-Medonte, which normally makes automotive components, is also working on a face shield prototype.
Canada Goose, which produces down-filled winter coats, will make scrubs and gowns at two of its facilities (Winnipeg and Toronto), which will be donated to local hospitals. Fashion designer Jason Matlo, based in Vancouver, started a GoFundMe campaign to produce masks; designers Salts and West from Vancouver Island is also producing masks. Toronto-based Knix is using a GoFundMe campaign to buy gowns, masks, and gloves. They join international clothing designers Prada, Christian Siriano, Louis Vuitton Moet Henessey (LVMH), H&M and Yves Saint Laurent, who will manufacture gowns, gloves and masks or use their buying power to supply hospitals.
In the US, robotics engineer Gui Cavalcanti reached out with a Facebook group to professionals who could design and build open-source, 3D-printed medical equipment. Engineers, doctors, scientists, and others are helping Cavalcanti  assemble information on how to make the medical supplies: making gloves with a laser cutter, sewing masks, and 3D printing equipment. This way local teams, based at universities or hospitals, can create their own supplies of critical products. Michael Rubin, founder and CEO of Fanatics, a company based in Easton Pennsylvania, has pivoted from producing team jerseys to masks and gowns. Pennsylvania's emergency authority approved their prototype and on Tuesday, the company halted jersey production to help supply nearby St. Luke's Hospital with the critical protective equipment. Gap HanesBrands, Ralph Lauren, LL Bean, and Eddie Bauer have switched production to personal protective equipment.
From drinks to disinfectant
Several distillers have switched from delicious beverages to making critical supplies of hand sanitizer and gel. Labatt will be producing hand sanitizer at five of its Canadian locations (London, Edmonton, Montreal, Vancouver, and Toronto), and plans to donate the 50,000 bottles to Food Banks Canada, frontline works, and bars and restaurants that are still open. Other distillers include:
Grit City Distillery in Medicine Hat, Alberta, who hope to make their supply available to anyone in the city who needs it
Hansen Distillery in West Edmonton, Alberta, who will supply social service providers in their area
Annex Ale Project in Calgary, Alberta, who will donate their supply to local shelters, food banks, and other non-profits and charities
Dixon's Distilled Spirits in Guelph, Ontario, who will supply first responders, doctors, and other health care workers
Lucky Bastard Distilling and Stumbletown Distilling in Saskatchewan (with the help of Saskatchewan Blue Cross)
Smooth 42 Distillery in Brownlie, Saskatchewan is marketing its 70% vodka as rubbing alcohol for health care and emergency services providers
Ironworks Distillery in Lunenburg, Nova Scotia, who are supplying seniors homes and local businesses
Compass Distillery in Halifax, Nova Scotia, who are using a prioritized list to supply health care works and local non-profits for free
Steinhart Distillers in Antigonish County, Nova Scotia, who are selling their bottles and donating 20% of the proceeds to the local food bank
A comprehensive list by province is here. Cosmetics companies L'Oreal Canada (Ville St. Laurent, Quebec) and Estee Lauder (Melville, New York) are also making hand sanitizing gels to distribute to health care workers and vulnerable local populations.
Protecting with Plexi
Acryl Design in Winnipeg used to produce furniture parts and modular escape rooms, but now it's making plexiglass shields to be installed at grocery store checkouts to protect cashiers, as well as post office and pharmacy counters. In Barrie, Ontario, BESI (Building Envelope Systems Installation) moved from producing glass to plexiglass shields this week.
Portable Electric, a Vancouver-based company, will be producing more of its VolStack power stations to hospitals and emergency service providers to ensure they have uninterrupted battery power supplies.
Thank you to all these amazing companies for joining in the fight. Let's remember to support them when they're able to shift back to their usual products.